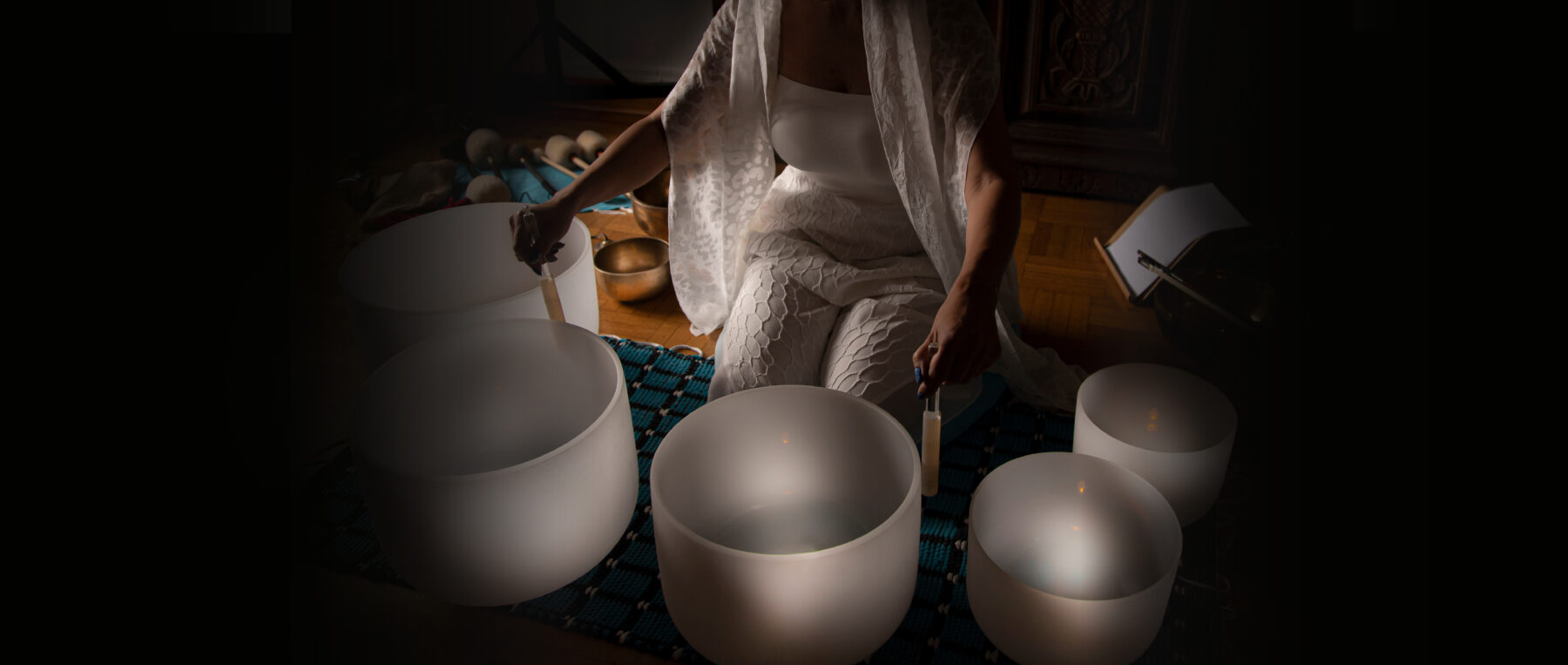 Soundbath Meditation Workshops
Date:
September 17, 2023 - October 29, 2023
Time:
8:00 pm - 1:00 pm
Price:
$35 – $120
Category:
Workshops
Soundbath Meditation Workshops with Jennifer Aparicio, certified yoga instructor and sound healing therapist. This SoundBath Meditation Workshop consists of four sessions each lasting 45-60 minutes. Join us for a meditative experience where you will learn meditation techniques while you are immersed in sound and vibration waves that will help you gain a deep level of relaxation. This workshop is a great opportunity to unplug from the external and to restore and heal mind, body, and spirit. Bring your yoga mat, a blanket, a pillow, or anything that will help you to be comfortable!
Sound meditation and deep listening play an intricate role in the video art exhibition, Drink Up the Moon by Irish-born artist Jane Cassidy. Expand on your meditation experience by visiting the exhibition on 3rd floor, Drink Up the Moon is on display from September 1 – November 12, 2023.
This workshop is open to the public. To sign up click on the link: https://forms.office.com/r/GZixU1S2Nh
Sundays, September, 17 & 24 and October 15 & 29 • 2pm
Each session: $35 | Entire series: $120

---
INSTRUCTOR, JENNIFER APARICIO—
Jennifer Aparicio is a Sound Healing therapist and certified yoga instructor currently working at The Glowing Body yoga studio in Knoxville. She is a certified Hatha yoga teacher from Mexico and a certified Therapist in Sound Healing with singing bowls. She earned her Hatha yoga certification at Consejo Internacional de Yoga A.C. school in Mexico in 2018 and Sound Healing certification at Institute of Sound Therapy & Be Generation School in Miami, FL in March 2023. She has also been studying Kundalini Kriya yoga, and incorporates pranayama and kriya techniques into her classes. She moved from Mexico to Knoxville two years ago. She credits her dedication to her yoga practice with building and creating a peaceful life and a deeper connection to herself.
---
This project is supported in part by federal award number 21.027 awarded to Knox County by the U.S. Department of the Treasury and the Arts & Culture Alliance, and by the federal award number SLFRP5534 awarded to the State of Tennessee by the U.S. Department of Treasury.