Visit
|
Exhibition
Anton Vidokle: Exhibition as School
September 04, 2009 - November 08, 2009 |

Free
Overview of Exhibition
Anton Vidokle is one of many artists who recognize the educational potential of art, but his productions usually do not manifest themselves in the form of traditional art objects. In the place of sculpture or painting, Vidokle creates work in the shape of social forms familiar to us – such as libraries, schools, and public conversations.
Exhibition Notes
This exhibition presents several projects Vidokle has produced over the last decade: publications from e-flux, an NYC based artist resource and art video distribution center founded in 1999; the model of unitednationsplaza, a free year-long school based in Berlin initiated by the artist in 2006; a station of texts and lectures from seminars at Night School , an artist commission in the form of a temporary school at the New Museum in New York City (January 2008- February 2009); New York Conversations , a feature film shot by the artist in 2008 with Nico Dockx , Rirkrit Tiravanija, and A Prior Magazine; and a comprehensive archive of over one hundred lectures, talks, and seminars organized by Vidokle throughout the past three years in Berlin, Mexico City and New York.
Anton Vidokle was born in Moscow and arrived in the United States in 1981. He is currently based in New York and Berlin. Vidokle operates these projects with a large group of collaborators, including Julieta Aranda, Boris Groys, Liam Gillick, Martha Rosler, Walid Raad, Nikolaus Hirsch, Brian Kuan Wood, Natascha Sadr Haghighian, Hila Peleg, Rirkrit Tiravanija, and Jan Verwoert.
This exhibition is presented in collaboration with A.S.A.P. – The Association for the Study of the Arts of the Present.
Additional Resources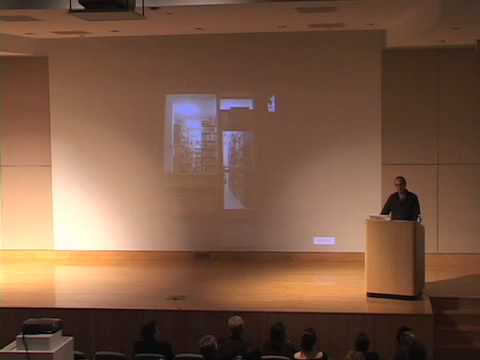 Anton Vodokle Lecture
Lecture
December 4, 2013
Exhibition Gallery
Artist Biography
Anton Vidokle
()