September 18, 2012 (Knoxville, TN) – The Guild of the Knoxville Museum of Art presents the fourteenth annual Artscapes auction in two parts:  a Cocktail Party and Silent Auction, Thursday, October 11, 6-9 p.m., and a Gala and Live Auction, Friday, October 19, 6:30 p.m.
Auction items encompass a variety of regionally and nationally exhibited works by artists well known to the Knoxville community from past museum exhibitions along with a few surprises in paintings, drawings, prints, glass, jewelry and fine crafts.  Additionally, a curator-led tour of the Crystal Bridges Museum of American Art, in Bentonville, Arkansas is up for the bidding.  An exhibit of the auction items opens October 4 at the KMA.  Until then, a selection of pieces may be seen at the Emporium on Gay Street.  Art may also be viewed at the KMA website, www.knoxart.org or by e-mail request to kma.artscapes@gmail.com.
Highlights of the works to be auctioned include an oil painting by contemporary colorist Joel Barr and a signature oil on canvas by American Impressionist and outdoorsman John Adams Spelman (1880-1941), who traveled to East Tennessee in the 1920s and 1930s to paint our beautiful Smoky Mountains and surrounding lakes.
Tickets for the Preview Party and Silent Auction on October 11 are $45 per person.  Tickets for the Gala and Live Auction on October 19 are $150 per person.  For questions or reservations, email kma.artscapes@gmail.com or visitwww.knoxart.org.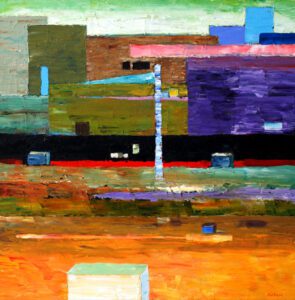 Joel Barr, A Working Place, 2012, oil on canvas, 36 x 36 inches.

The Knoxville Museum of Art celebrates the art and artists of East Tennessee, presents new art and new ideas, serves and educates diverse audiences, and enhances Knoxville's quality of life. The museum is located in downtown Knoxville at 1050 World's Fair Park and is open to the public Tuesday through Saturday 10am–5pm and Sunday 1pm-5pm. Admission and parking are free.For more information, contact Angela Thomas at 865.934.2034 or visit www.knoxart.org.