Facility Rentals
The Knoxville Museum of Art, one of the city's most beautiful venues, is available for rental to individuals, non-profit organizations, and corporations. The KMA staff will work with you to ensure a successful and unforgettable event. Whether it be a wedding, a reunion, or a fundraiser, the museum's Ann and Steve Bailey Hall transforms into the perfect space to suit your needs.
For more information on facility rental, please contact Facility Sales Coordinator Selena Friess at 865.934.2048 or sfriess@knoxart.org
Capacity
Ann and Steve Bailey Hall: 250 standing receptions;
200 sit-down dinner (Seated capacity varies with event set-up)
Regal Commons: 65
Whittle Board Room: 18
Contract/Deposits
A rental reservation will be considered confirmed when KMA has received a signed contract and the 25% deposit. By renting space in the KMA facilities, the renter agrees to indemnify and release KMA from any and all claims that may arise during the time usage of their said event. This includes any liability coverage necessitated, created, and/or occurring with the serving of any alcoholic beverages during the event.
Facility Use Rates
Deposit: 25% of the total cost required to hold a date.
Weddings: January, February, March $5,000 for 4-hour event; All other months $6,000 for 4-hour event. Rental includes from noon the day of the event for set up and

1.5

hours after event for cleanup. Additional hours: $500 per hour.

Ann & Steve Bailey Hall & Gardens: The Bailey Hall, the South Garden, and the June and Rob Heller North Garden are available for rentals after 5pm. Rental rate – $4,000 with a two-hour minimum. $500 for each additional hour. KMA tables and chairs are included in the rental fee.

All rental chairs and equipment are set up by a rental company.

Whittle Board Room: $300 per day.

A 10% discount on Bailey Hall is available for non-profit organizations.

Additional fee applies for using Non-Approved Caterers.
Equipment Available
Chairs: 270
Tables:
60″ Rounds: 35
30″ Rounds: 18
6′ Rectangle: 12
8′ Rectangle: 12
Vendors will set up rental chairs and tables. It is the responsibility of the florist to arrange and remove plants and flowers.
Accessibility
KMA is fully accessible to persons using wheelchairs. Wheelchairs are available for use at the museum information desk. Accommodations for persons with other disabilities can be requested by contacting the museum at least 48 hours in advance of your visit at 865.525.6101.
Approved Caterer List
All Occasion Catering LLC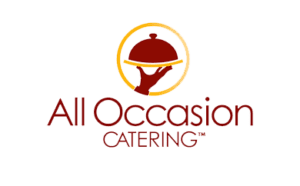 Serving Knoxville for over fifteen years; owners, Neal & Susan Green and the experienced staff of All Occasion Catering LLC is committed to providing you with outstanding service for all of your catering needs. Our catering options include weddings, anniversaries, graduations/proms, business meetings, fundraisers, and any catered celebration. We look forward to catering your next event.
Contact: Neal or Susan Green 865.521.1300
www.alloccasioncatering.com
Bradford Catered Events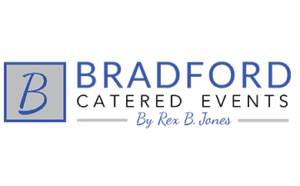 Bradford Catered Events, formerly known as both Abner's Attic Catering and Rex Bradford Jones Caterer, is designed to support your event vision, and the planning process is a stress-free experience you'll truly enjoy. We believe your event deserves flawless perfection, and we accomplish that through honest, conscientious, customized service and a devotion to our shared values and beliefs.
We are honored to provide expert catering for Knoxville weddings, corporate events, ceremonies and receptions, special events, holiday parties and so much more. We can't wait to personalize an experience for you and your guests.
Contact: 865.522.5552, info@bradfordevents.com
www.bradfordevents.com
Bridgewater Place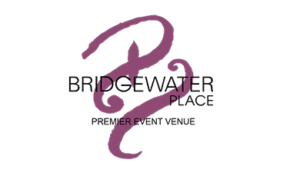 Knoxville's Premiere event venue is known for hosting events in style, and now we also offer full-service catering DELIVERY. Bridgewater Place can prepare your food from wedding receptions or company lunches to (baby showers) corporate parties, school fundraisers, or family reunions. Our team will customize the perfect menu for any event. Our full-service catering allows you to relax with your guests, fellow colleagues, or family while we prepare, cook, serve and clean up at your location. Call Bridgewater Place today so you can leave the work to us, and truly enjoy your event. Bridgewater Place, 205 Bridgewater @ I-40 or bridgewaterplacetn.com.
By The Tracks Catering
By The Tracks Catering is led by culinary duo Jeff Carter (formerly of Blackberry Farm, Dancing Bear Lodge, and most recently Aubrey's Restaurant as Corporate Chef) and Nancy Kendrick (formerly of Creative Catering). Brought together by local restaurateur Randy Burleson, By The Tracks Catering is a full-service operation including service staff, bar service, on-site chefs, and customized menus featuring local, seasonal ingredients.
Contact book@bythetrackscatering.com or 865-851-7773
Calhoun's Banquets and Copper Cellar Catering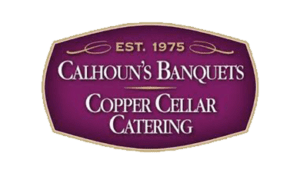 400 Neyland Drive
Knoxville, TN 37901
865.673.3399
coppercellar.com
Contact: Kimberly Sterchi
kwsterchi@coppercellar.com
Calhoun's Banquets and Copper Cellar Catering offers full-service catering for your event. What does that mean you ask? It means no worries, you don't have to cook, set up or clean up. The experienced catering team here at Calhoun's is dedicated to making your event stress-free. We've orchestrated catered events of every size and scope with a passion for making your vision become a reality. Our catering brings the tradition of Copper Cellar quality and Calhoun's favorites together to create a menu that reflects your personal or corporate style. Providing East Tennessee culinary and service excellence for over 30 years has been an honor. It would be our distinct pleasure to be of service to you for your wedding reception, rehearsal dinner, corporate event, birthday celebration, or "just because" party.
Holly's Eventful Dining
We are a locally grown catering and events company specializing in deliciously prepared menus for all occasions. With almost three decades of hospitality experience, Managing Chef Holly Hambright has developed a playful and creative culinary style blending her southern heritage and classic technique into memorable, boldly flavored comestibles artfully presented. Whether it's a wedding for 200 or a romantic dinner for two, you can be confident that we will exceed your expectations delivering a truly Eventful Dining experience.
Contact: 865.330.0123 (Office)
www.hollyseventfuldining.com
Rosa's Catering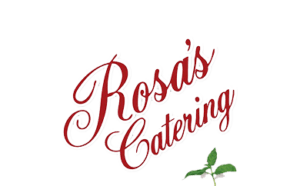 In business with the Knoxville area since 1971, Rosa's Catering Service, Inc. is a full-service catering company, which means that any requested service and any type of event can be handled by this professional staff. Certified by the American Culinary Federation, executive chef Rosa Nussbaumer, assisted by her two sous chefs who have been with the company for over fifteen years, can display a wide selection of homemade specialties from which clients can tailor a menu to fit their budget.
Contact: Phillip Nussbaumer 865.690.5757
www.rosascatering.com
Soul Elegance Catering
Soul Elegance Catering is a full-service catering company with a passion for providing succulent, quality, and affordable cuisine for all occasions. Whether you are planning a private dinner party, baby shower, company picnic, reunion, banquet, or a lavish wedding reception, Soul Elegance Catering has something for you. At Soul Elegance, our services include customizable catering solutions that suit your needs. Taking pride in customer satisfaction, your personalized menu begins to take shape after a one-on-one consultation for your specific event. Soul Elegance Catering goes beyond simply providing the most scrumptious cuisine for your event. We take pride in our creative food presentation and event design which will enhance or complement your event theme.
Contact: Carolyne Thomas 865.659.6165 soulelegance@me.com
www.soulelegancecatering.com