Students from grades six through 12 showcase their talents at the Knoxville Museum of Art during the fifth annual East Tennessee Regional Student Art Exhibition November 26, 2010 – January 9, 2011. The exhibition, presented by the Tennessee Art Education Association and the KMA, offers students the opportunity to display their artwork and be honored for their accomplishments in a professional art museum environment. The awards ceremony for the artists on Tuesday, December 7 at 6pm at the KMA is open to the public and free of charge.
Awards for students total over $600,000. The Best-of-Show winner receives a purchase award of $500, and the artwork becomes a part of the collection of James Dodson, on loan to the Knoxville Museum of Art's Education Collection.
Categories for the competition include ceramic, drawing, digital imagery, mixed media, painting, computer graphics, sculpture, traditional photography, and printmaking. The competition includes works from middle and high school students, grades six – 12, from public, private or home schools in East Tennessee.
The student art exhibition is made possible by presenting sponsor Regal Entertainment Group, Home Federal Bank, and Pharma Packaging Solutions, with additional sponsorship from All Occasion Catering, Aside Project Studio, City of Knoxville, Coleman's Printing & Awards, LLC, James Dodson, Jerry's Artarama, Knox County, Knoxville Museum of Art, Morris Creative Group, Steve and Mary Ellen Brewington, Tennessee Arts Commission, Tennessee Art Education Association.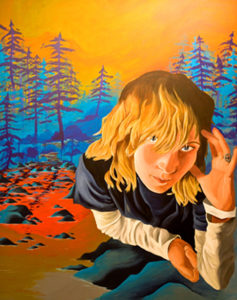 Best of Show, Lauryn Darby, Wilderness, 12th Grade, Halls High School
The Knoxville Museum of Art
The Knoxville Museum of Art celebrates the art and artists of East Tennessee, presents new art and new ideas, serves and educates diverse audiences, and enhances Knoxville's quality of life. The museum is located in downtown Knoxville at 1050 World's Fair Park and is open to the public Tuesday, Wednesday, Thursday and Saturday 10 am–5 pm, Friday 10 am–8 pm, and Sunday 1 pm-5 pm. Admission and parking are free. For more information, contact Angela Thomas at 865.934.2034 or visit www.knoxart.org.