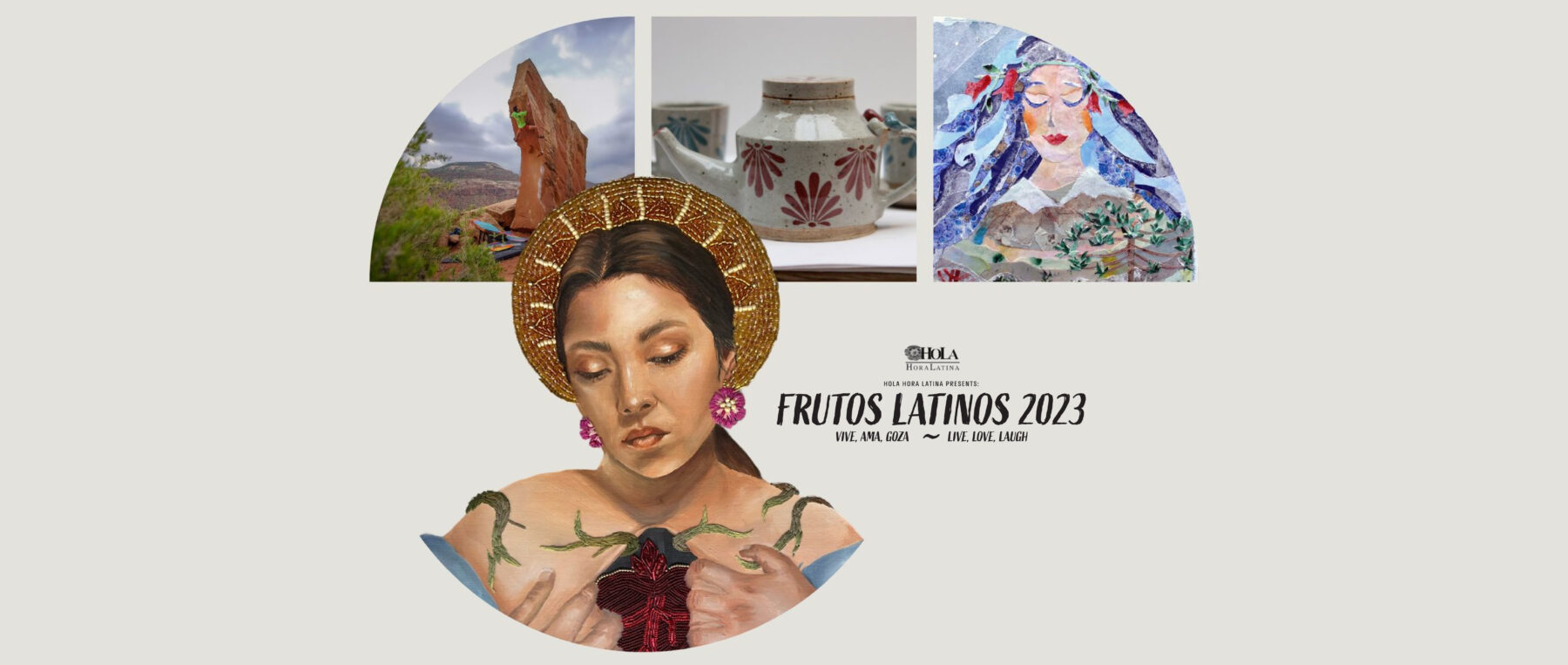 Hola Hora Latina presents Frutos Latinos 2023
Date:
September 14, 2023 - October 15, 2023
Time:
10:00 am - 5:00 pm
Price:
FREE
Category:
Kramer Gallery

This Frutos Latinos exhibit was selected from works displayed during September's First Friday event at Casa HoLa. Local Latino/Latinx artists were invited to submit artworks to be displayed that celebrate their cultures and traditions and gallery visitors voted for their favorite artist in person.
Esta exhibición de Frutos Latinos fue seleccionada de las obras exhibidas durante el evento del primer viernes de septiembre en Casa HoLa. Se invitó a los artistas latinos/latinx locales a presentar obras de arte que celebraran sus culturas y tradiciones y los visitantes de la galería votaron por sus artistas favoritos en persona.
Featured artists/Artistas destacados: Enrique, Reem Arnouk, Zulay Buchs, Alberto Palma Cerna, Jürgen Dopatka, Stefan Dopatka, Susana Esrequis, Carlos Lamothe, Alyssa Naudin, María Paz Valenzuela, Karina Penagos, Moisés Ponce, Héctor Saldivar, Iván Soto, Gabrielle Toledo, and Stephanie Villagran
HoLa Festival 2023
Saturday, September 16, 4pm -10pm
Sunday, September, 17, 11am -6pm
World's Fair Park Performance Lawn
For more information go to https://holahoralatina.org/hola-festival/
---
ABOUT HOLA HORA LATINA—HoLa Hora Latina is the home of the HoLa Festival, TN's largest arts and culture festival celebrating Latin American and Hispanic Heritage Month, and the Casa HoLa Art Gallery and Artisan Shop at the Emporium for the Arts, located at 100 South Gay Street, Suite 112 on the bottom floor. Our mission is to promote unity in the community by creating bridges between the Hispanic /LatinX communities and the community at large through art, culture, education, and leadership. Many thanks to our HoLa Festival 2022 sponsors. This celebration of Hispanic Heritage Month would not be possible without your very generous support. We are so grateful that you join us to celebrate and share the beauty and diversity of Hispanic and Latin American cultures with our East Tennessee communities. Muchas gracias a los patrocinadores del Festival HoLa 2022. La celebración del Mes de la Herencia Hispana no habría sido posible sin su apoyo generoso. Agradecemos mucho que se unan con nosotros para celebrar y compartir la belleza y diversidad de las culturas hispanas y latinas con las comunidades del Este de Tennessee.
---
This project [is being][was] supported in whole or in part by federal award number 21.027 awarded to Knox County by the U.S. Department of the Treasury and the Arts & Culture Alliance.