January 14, 2013 (Knoxville, TN) — The watchful eyes that look over World's Fair Park from the back of the Knoxville Museum of Art will be temporarily removed while the museum gets its own cosmetic facelift. Workers will soon begin cleaning and caulking the outside of the museum in an order to better seal the building and give it a fresh, clean look.
Added to the back of the museum in 2008 as part of a branding campaign, the eyes have become an iconic symbol in the World's Fair Park area. The tag line "Open Your Eyes, Open Your Mind" was further enhanced by the eyes peering over the park.
Once building renovations are complete, eyes will once again adorn the back of the building, but don't expect them to necessarily be the same eyes as before.
"We have a few ideas up our sleeves that will give the museum a new look," said KMA Executive Director David Butler. "We definitely plan for the museum to continue to gaze into the park, but there may just be a different pair of eyes with which to do so. People need to stay tuned for the next phase of the KMA brand."
Since work on the building could take several months, there has been no definite date set for the new eyes to be installed. But the museum encourages people to keep their eyes open for changes coming soon.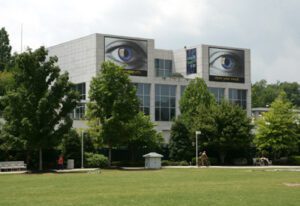 The Knoxville Museum of Art The Knoxville Museum of Art celebrates the art and artists of East Tennessee, presents new art and new ideas, serves and educates diverse audiences, and enhances Knoxville's quality of life. The museum is located in downtown Knoxville at 1050 World's Fair Park and is open to the public Tuesday, Wednesday, Thursday, Friday, and Saturday 10am–5pm, Friday 10am–8pm, and Sunday 1pm-5pm. Admission and parking are free. For more information, contact Angela Thomas at 865.934.2034 or visit www.knoxart.org.