February 5, 2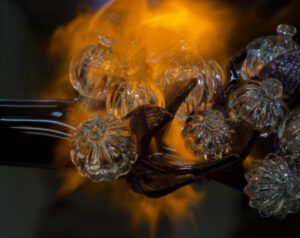 014 (Knoxville, TN) — On May 4, 2014, the Knoxville Museum of Art (KMA) will debut a new, monumentally scaled sculpture by internationally acclaimed artist Richard Jolley. Commissioned especially for the museum's
newly refurbished Great Hall, where it will remain on permanent view, Cycle of Life: Within the Power of Dreams and the Wonder of Infinity extends for some 100 running feet and soars to a height of 12 feet, making it one of the largest figurative glass-and-steel assemblages in the world. Fashioned of thousands of individual cast and blown-glass elements, the massive work unfolds as an epic narrative of the successive phases of life. Begun in 2009, it is the Knoxville-based artist's most ambitious and complex undertaking to date.
The entire project, including execution, assembly, and installation, has been generously underwritten by long-time KMA supporters Ann and Steve Bailey.
KMA Director David Butler said, "Cycle of Life is a game-changer for the Museum in a number of important ways. First, it reveals Richard's exceptional artistic rigor and vision-an aesthetically stunning masterwork that is also an engineering marvel.
Cycle of Life is also emblematic of the KMA's commitment to art of the region and to collecting the work of contemporary artists of international repute. Thanks to our exceptional board of trustees, generous supporters, community leaders, and dedicated staff, we are able to present Richard's magnificent sculpture in a refurbished and expanded facility. Finally, the commission coincides with KMA's 25th anniversary celebration-a wonderful milestone for our community. We are profoundly grateful to Ann and Steve Bailey, whose extraordinary generosity inspired Richard to 'dream big' (monumentally, in this case). They have immeasurably enriched the Museum experience for our visitors, and provided a new must-see highlight amid the city's cultural offerings."
The fragility, complexity, and monumental size of the sculpture-which measures approximately 105 x 30 x 12 feet and weighs seven tons-presented enormous technical challenges, not only in the execution but in the installation of the work. De
livered to the KMA on flatbed trucks, the largest sections were hoisted by crane riggers over the Museum's South Garden wall. In order to safely accommodate the weight of the work, an array of structural interventions to the Great Hall was necessary, including the addition of support beams. Jolley created three massive undulating metal plinths-each weighing 1,500 pounds and anchored onto the wall approximately 11 feet above the floor-to serve as a structural foundation. Jolley and his studio team were assisted in the installation process, which began in December 2013, by Partners Development, the Knoxville-based firm that managed the recently completed, building-wide refurbishment of the Museum.
Cycle of Life: Within the Power of Dreams and the Wonder of Infinity
Spanning the entire length of the Museum's Great Hall, Cycle of Life is a visual narrative in seven parts on the progression of life. The first six stages take place on Earth and extend around the second-floor wall of the Great Hall, while the seventh, suggestive of the cosmos, is dramatically suspended from the ceiling.
By turns representational and abstract, the assemblage deftly combines a wide range of images and influences-from the distinctive local sense of place, to the monumental frescoes of the Italian Renaissance, to the heroic paintings of Eugène Delacroix and other French Romantics. For example, the first section, entitled "Primordial," features a dense forest of poplars-trees that are indigenous to the region-from whose trunks a myriad of glass-blown leaves and thistles appears to sprout.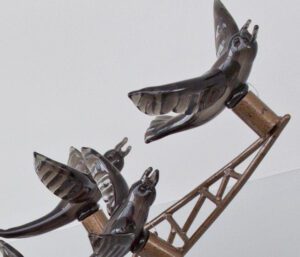 "Emergence," made of cast black glass in a steel armature, takes the form of a large-scale man and woman walking together. In "Flight," the journey to adulthood is exuberantly evoked by a flock of some 135 blown-glass blackbirds that appear to soar skyward. Featuring a man and a woman posed in classical juxtaposition, "Desire" recalls countless imagery from around the globe-from prehistoric to contemporary-signifying the primal life force. The next section, "Tree of Life," utilizes a well-known symbolic image for abundance and fertility that dates back to ancient Near Eastern cultures. Appearing to emerge from the Great Hall floor, the 22-foot tree is festooned with thousands of glistening leaves, pomegranate blossoms, and doves.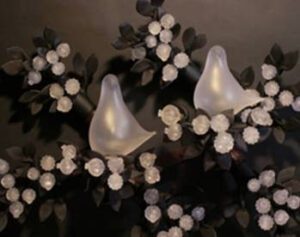 A massive head signifies "Contemplation," indicating a time of respite to enable quiet introspection. From certain angles, the dark glass face is bisected by a beam of light made of crystal, suggesting a state of transition. The series culminates with "Sky," in which organic and figural forms give way to a dazzling constellation of geometric shapes and orbs of silvered glass suggestive of the universe and the infinite.
Depending on the time of day, the reflective surfaces of the sculpture appear in a range of colors-from clear and whites, to blues, purples, greys and blacks-thus presenting an ever-changing visual experience for the viewer.
Richard Jolley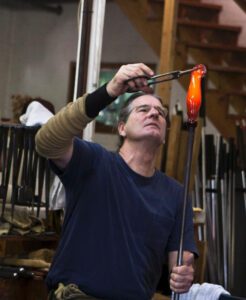 Richard Jolley, internationally recognized as one of today's most accomplished and inventive glass sculptors, was born in Wichita, Kansas, in 1952. As a youth, he moved to Oak Ridge, Tennessee, and in 1970 began his art training at Tusculum College in Greenville, Tennessee, studying under noted glass artist Michael Taylor. After receiving his B.F.A. from George Peabody College in Nashville (now part of Vanderbilt University), Jolley continued graduate studies at North Carolina's Penland School of Crafts, under the instruction of studio glass artist Richard Ritter.
Since establishing his studio in Knoxville, in 1975, Jolley has participated in over 65solo museum and gallery exhibitions throughout the United States and in Australia, Europe, Israel, and Japan. In 1997 the Mint Museum of Art in Charlotte, North Carolina, organized the first extensive exhibition of Jolley's mature glass sculptures; and in 2002, the Knoxville Museum of Art presented the first major retrospective of Jolley's work, which later traveled nationally to 14 museums over five years. In 2011, the Mobile Museum of Art presented Richard Jolley and Tommie Rush: A Life in Glass, feat uring an extensive body of work by Jolley as well as by his wife, Tommie Rush, a respected glass artist in her own right.
In addition, Jolley's works have been showcasedin numerous important museum surveys of contemporary glass, including the Hokkaido Museum of Modern Art in Sapporo, Japan; the International Exhibition of Glass in Kanazawa, Japan; the Indianapolis Museum of Art; the Museum of Fine Arts, Boston; the Renwick Gallery of the Smithsonian American Art Museum, Washington, D.C.; and the Carnegie Museum of Art, Pittsburgh.
At present, Jolley's work is represented in over 33 public collections, including the Carnegie Museum of Art; the Corning Museum of Glass; the Frederick Weisman Art Foundation, Los Angeles, the Knoxville Museum of Art; the Los Angeles County Museum of Art; the Museum of Fine Arts, Boston; and the Renwick Gallery of the Smithsonian American Art Museum; and the private Collection of Sir Elton John.
Jolley has also been honored with a variety of awards, commissions, and invitational workshops in the United States and abroad. In 2007, he became the youngest visual artist to receive the Tennessee Governor's Distinguished Artist Award; in 2010 the Art Alliance for Contemporary Glass named him as that year's Individual for Outstanding Accomplishment in the Field. In addition to his Cycle of Life project for the KMA, Jolley has received several other prestigious private and public commissions, including Everything and the Cosmos (2007), installed at 7 World Trade Center, New York City. In 2011, he was invited to create a new art series at the Berengo Studio in Murano, Italy. For more information on the artist, visit www.richardjolley.com.
Knoxville Museum of Art
The Knoxville Museum of Art celebrates the art and artists of East Tennessee and beyond. The KMA's predecessor, the Dulin Gallery of Art, opened in 1961. By the middle 1980s the gallery had outgrown its quarters in the century-old building. A major community effort raised $11 million for a modern facility overlooking the site of the 1982 World's Fair in downtown Knoxville. In March 1990, operating as a public trust, the Knoxville Museum of Art opened in its 53,200 square-foot facility, designed by distinguished museum architect Edward Larrabee Barnes. The building was named in honor of Jim Clayton, the largest single contributor to its construction. A $6 million refurbishment took place in 2013-14, returning the facility to its pristine condition while increasing gallery space and completing the North Garden. Knoxville-based Partners Development managed the renovation and upgrade work for the KMA.
Since its opening, the KMA has presented a lively and engaging roster of exhibitions and programs. Focusing on the rich visual traditions of its own region, the Museum createdHigher Ground: A Century of the Visual Arts in East Tennessee, a permanent exhibition featuring works from the collection and loans from individuals and other institutions. Currents: Recent Art from East Tennessee and Beyond, another permanent installation, extends the geographic and chronological parameters of Higher Ground and examines recent developments in regional, national, and international contemporary art. This rotating installation features a selection of objects from the KMA's growing collection of works by emerging and established artists. Both displays allow viewers to consider the achievements of area artists past and present within a global art-historical context. Accredited by the American Alliance of Museums, the KMA reaches over 60,000 annually through museum visits, special events, concerts, and off-site school programs. KMA is free and open to the public six days a week. For more information on the KMA and its programs visit www.knoxart.org.
Click here for a pdf of this press release.
Media Contact:
For additional information and images, please contact Bow Bridge Communications, New York City, 347-460-5566, or info@bow-bridge.com.
Richard Jolley
Cycle of Life: Within the Power of Dreams and the Wonder of Infinity
Approximately 105 x 30 x 12 feet. Blown and cast glass and steel.
Photographs by Hei Park
Gift of Ann and Steve Bailey
© Knoxville Museum of Art
1) Detail of pomegranate buds in process
2) Detail of blown-glass birds
3) Detail of doves and pomegranate buds
4) Richard Jolley forms glass elements
The Knoxville Museum of Art celebrates the art and artists of East Tennessee, presents new art and new ideas, serves and educates diverse audiences, and enhances Knoxville's quality of life. The museum is located in downtown Knoxville at 1050 World's Fair Park and is open to the public Tuesday through Saturday 10 am–5 pm, and Sunday 1 pm-5 pm. Admission and parking are free. For more information, contact Angela Thomas at 865.934.2034 or visit www.knoxart.org.