May 9, 2012 (Knoxville, TN) – The Knoxville Museum of Art presents Beverly Semmes: Starcraft June 8-September 9, 2012.
Semmes, a Brooklyn-based artist, is known internationally for her unique multi-media installations. She challenges the conventional definitions of craft and "women's work" by creating completely non-functional pieces out of traditional materials such as fabric, clay and glass. Her massively lush silk and velvet dresses evolved from costumes the artist designed for her photographic and video works, also featured in the exhibition. Semmes' ceramic and crystal pots defy the time honored symmetry and beauty expected in pottery and glass. Although irregular and distorted, the crystal work poses a dazzling contrast to the lusciously colored, but misshapen, clay pots.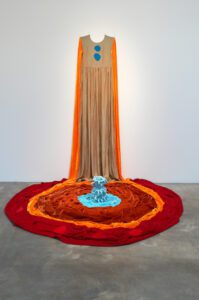 Beverly Semmes, Olga, 2007, silk, velvet, rayon, taffeta, ceramic, 7 feet x 6 feet 10 inches x 7 feet, courtesy of the artist and Galerie Buddahn und Kaimer, Dusseldorf
Semmes lives and works in New York. Her work has been the subject of numerous one-person exhibitions at institutions worldwide, including the Kunsthallen Brandts, Denmark, the Hirshhorn Museum, Washington D.C.; the MCA Chicago; The Wexner Center for the Arts, Columbus; I.C.A Philadelphia; and the Irish Museum of Contemporary Art, Dublin. Although she grew up in Washington D.C., Semmes's family has ties to the South with her grandmother hailing from Chattanooga. Her work can be found in numerous museum collections, including the Hirshhorn Museum and Sculpture Garden, Smithsonian Institution; the Whitney Museum of American Art; and the Los Angeles Museum of Contemporary Art.
The KMA hosts a preview party Thursday, June 7, from 5:30-7:30pm. The party is free and open to the public and includes a cash bar. Semmes will host a gallery talk earlier that day at 4pm, and will attend the preview party as well.
Beverly Semmes: Starcraft is organized by the Hunter Museum of American Art in Chattanooga, Tennessee. KMA presenting sponsor is Lexus of Knoxville. KMA media sponsors include AT&T Real Yellow Pages, Digital Media Graphix, Kurt Zinser Design, and WBIR.
The Knoxville Museum of Art The Knoxville Museum of Art celebrates the art and artists of East Tennessee, presents new art and new ideas, serves and educates diverse audiences, and enhances Knoxville's quality of life. The museum is located in downtown Knoxville at 1050 World's Fair Park and is open to the public Tuesday, Wednesday, Thursday, Friday, and Saturday 10am–5pm, Friday 10am–8pm, and Sunday 1pm-5pm. Admission and parking are free. For more information, contact Angela Thomas at 865.934.2034 or visit www.knoxart.org.