Contemporary Focus is an annual KMA series that serves as a vital means of recognizing, supporting, and documenting the development of contemporary art in East Tennessee. Each year the series presents emerging artists who work in new and experimental ways.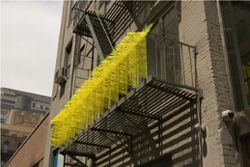 Contemporary Focus 2011 features three artists who work through different methods but share an aesthetic concern exploring concepts of space in innovative ways. John Bissonette uses traditional materials such as paint and canvas to produce colorful scenes of urban decay. His images reference banners or flags from abandoned storefronts and display windows once used to attract the attention of passersby, but now exist as mute abstract shapes. Brian Jobe transforms three-dimensional objects using brightly colored zip-ties. The thousands of ties extend otherwise ordinary objects into new, imposing forms. Greg Pond works with computer technology to program interactive, responsive sculptures, often using sound as a primary medium. His structures act as generative bases for tracking, manipulating, and projecting sounds made by audience members as they move through the exhibition space.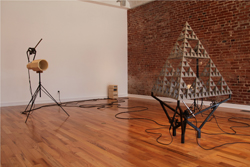 Opening reception is Thursday, August 25. KMA members are invited from 6-7pm, with the event opening to the public at 7pm. Artists will be on hand for questions and a cash bar will be provided.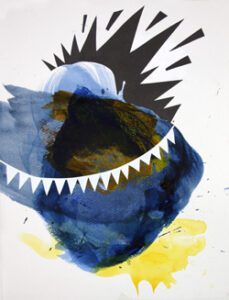 Throughout the run of Contemporary Focus 2011, each artist will present a lecture or workshop about their artwork:
Saturday, September 17, 1-4pm Artist in Action with Greg Pond
Friday, September 23, 1-4pm Artist in Action with Brian Jobe
Wednesday, October 19, noon-1pm, Dine & Discover with John Bissonette
Saturday, October 22, 1-4pm, Artist in Action with John Bissonette
Presenting sponsors for Contemporary Focus are Jennifer and Greg Dunn with additional support from the MacLean Foundation. Media sponsors include AT&T Real Yellow Pages, Digital Media Graphix, Kurt Zinser Design, and WBIR.
The Knoxville Museum of Art The Knoxville Museum of Art celebrates the art and artists of East Tennessee, presents new art and new ideas, serves and educates diverse audiences, and enhances Knoxville's quality of life. The museum is located in downtown Knoxville at 1050 World's Fair Park and is open to the public Tuesday, Wednesday, Thursday, Friday, and Saturday 10am–5pm, Friday 10am–8pm, and Sunday 1pm-5pm. Admission and parking are free. For more information, contact Angela Thomas at 865.934.2034 or visit www.knoxart.org.