July 15, 2014 (Knoxville, TN)-The Knoxville Museum of Art presents This World is Not My Home: Danny Lyon Photographs August 15–November 9, 2014.
This exhibition of more than 50 photographs and photographic montages traces the evolution of the acclaimed artist's career from 1962 to the present. A leading figure in the American street photography movement of the 1960s, Lyon distinguished himself from peers like Robert Frank, Garry Winogrand, and Lee Friedlander through his exceptionally strong political consciousness and concern for those on the margins of society. Lyon rode with a notorious Chicago biker gang, marched against segregation during the Civil Rights Movement, and spent hours inside the notorious death-row "Walls Unit" of Texas' Huntsville Prison. His goal, he said, was "to destroy Life magazine"—to present powerful, real alternatives to the hollow pictures and stories permeating mass media in America. A special group of Lyon's photographs taken during his visit to Knoxville in 1967 will be featured in the KMA's presentation. The exhibition is organized by The Menil Collection, Houston.
Presenting sponsors are Jennifer and Greg Dunn. Media sponsors include Access Systems, Inc., Digital Media Graphix, Kurt Zinser Design, and WBIR.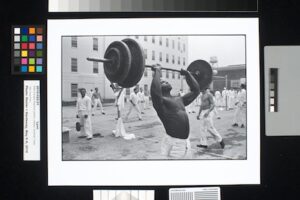 Danny Lyon, Walls Unit yard (Raymond Jackson, robbery), Huntsville, Texas, 1968, Texas Prison, 11 x 14 inches, The Menil Collection, Houston, Gift of Edmund Carpenter and Adelaide de Menil, courtesy dektol.wordpress.com and Edwynn Houk Gallery
The Knoxville Museum of Art
The Knoxville Museum of Art celebrates the art and artists of East Tennessee, presents new art and new ideas, serves and educates diverse audiences, and enhances Knoxville's quality of life. The museum is located in downtown Knoxville at 1050 World's Fair Park and is open to the public Tuesday through Saturday 10 am–5 pm, and Sunday 1 pm-5 pm. Admission and parking are free. For more information, contact Angela Thomas at 865.934.2034 or visit www.knoxart.org