July 23, 2012 (Knoxville, TN) – The Knoxville Museum of Art presents two concurrent exhibitions August 24-November 4 Contemporary Focus 2012 and Fischli & Weiss: The Way Things Go.
Contemporary Focus is the KMA's annual exhibition series that recognizes, supports, and documents the development of contemporary art in East Tennessee. Each year, the exhibition series features the work of artists who are living and making art in this region, and who are exploring issues relevant to the larger world of contemporary art.
The three artists selected for this year's exhibition have a common interest in referencing the urban environment, the boundaries along which nature and civilization intersect, and the way in which ordinary images can serve as metaphors for complex realities. Joshua Dudley Greer creates color photographs whose enigmatic imagery is informed by the artist's interest in film, urban lore, the built environment, and its relationship with the natural world. He was included in a recent Oxford American article on 100 emerging Southern artists to watch. Greer is based in Johnson City, where he is a visiting assistant professor of photography at East Tennessee State University. Andrew Scott Ross creates elaborate sculptural installations made up of tiny hand-cut works on paper. His compositions resemble primordial landscapes populated by various human and animal characters. Ross is based in Johnson City, and currently teaches drawing as a member of the art faculty at the East Tennessee State University. Mark Bradley-Shoup produces small, intricately crafted paintings and works on paper based on his own manipulated photographs of local urban environments. The artist uses tape to create precise areas of thick paint that emphasize the surface texture of his compositions in a way that destroys any elements of photorealist illusion. Shoup is based in Chattanooga and teaches arts foundation courses at University of Tennessee Chattanooga and Chattanooga State Technical Community College.
The Way Things Go, a video installation by Swiss artists Peter Fischli and David Weiss, has earned a cult following since its premier at international art festivals in 1987. The Way Things Go documents a 30-minute chain reaction using ordinary objects, fire, fireworks, blasts of air, gravity, and a variety of corrosive liquids.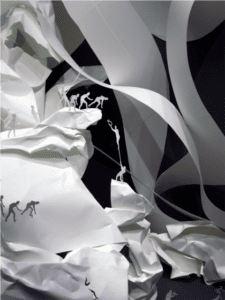 A free public opening for both exhibitions takes place Thursday, August 23 from 7-9pm. This event includes a cash bar and an opportunity to meet the Contemporary Focus artists. Additional programming for Contemporary Focus includes Dine & Discover presentations August 22, September 25, and October 24, all held at noon at the KMA.
Media sponsors include AT&T Real Yellow Pages, Digital Media Graphix, Kurt Zinser Design, and WBIR.
The Knoxville Museum of Art The Knoxville Museum of Art celebrates the art and artists of East Tennessee, presents new art and new ideas, serves and educates diverse audiences, and enhances Knoxville's quality of life. The museum is located in downtown Knoxville at 1050 World's Fair Park and is open to the public Tuesday, Wednesday, Thursday, Friday, and Saturday 10am–5pm, Friday 10am–8pm, and Sunday 1pm-5pm. Admission and parking are free. For more information, contact Angela Thomas at 865.934.2034 or visit www.knoxart.org.