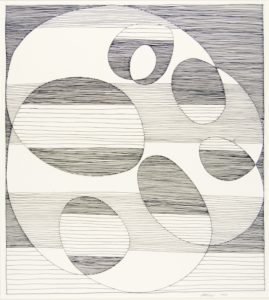 A Lasting Imprint: Rendering Rhythm and Motion in the Art of Black Mountain College
Drawn from the extensive holdings of the Asheville Art Museum, A Lasting Imprint will feature a selection of more than 50 prints, textiles, drawings, paintings and sculptures reflecting time-based themes of movement and music by some of the most adventurous and influential artists associated with Black Mountain College.
January 29, 2021
- May 2, 2021
A Lasting Imprint: Rendering Rhythm and Motion in the Art of Black Mountain College
Movement and music—both time-based activities—can be difficult to express in static media such as painting, drawing, and photography, yet many artists feel called to explore them. Movement serves as inspiration—either to capture it or to create it in entirely different media. Similarly, music is driven by rhythm, patterns, and variations that are enticing departures for visual artists. In few places did movement, music, visual arts, and myriad other disciplines intermingle to such impact as they did at Black Mountain College, an experiment in higher education in the mountains of Western North Carolina that existed from 1933 to 1957. For many artists, their introduction to interdisciplinarity at the college resulted in a continued curiosity around those ideas throughout their careers. The works here, selected from the Asheville Art Museum's Black Mountain College Collection of works, highlight approaches to rendering a lasting imprint of the ephemeral.
Artists such as Barbara Morgan and Clemens Kalischer are concerned with the motion of the human form, evoking a sense of elongated or contracted muscles, or of limbs moving through space. Others, like Lorna Blaine Halper or Sewell Silman, approach the challenge through abstraction, foregoing representation yet communicating an atmosphere of dynamic change. Marianne Preger-Simon's drawings of her fellow dancers at Black Mountain College from summer 1953 are not only portraits but also a dance of pencil on paper, created in the spirit of BMC professor Josef Albers's line studies as she simultaneously worked with choreographer Merce Cunningham. Each of these artists ultimately reflects on the temporal nature of movement and music.
Sponsored By: