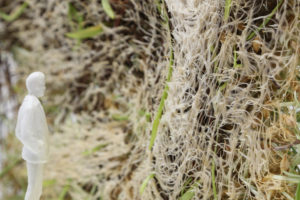 Homegrown is a site-specific outdoor installation by designers Katie MacDonald and Kyle Schumann that examines potential applications for Tennessee's invasive plant species as productive building materials. Exhibition will be in the KMA South Garden.
Katie MacDonald and Kyle Schumann
Homegrown, 2020
Plant fibers (including forestry waste and invasive plant species) and biobased binder
10 x 10 x 6 feet
Homegrown imagines architectural applications for Tennessee's native and nonnative plant species. Four walls composed of various invasives (including bamboos and tree species) and forestry waste form an exterior room.
The room's walls are constructed using a novel pneumatic forming system developed by the designers. Using a hybrid workflow, the installation was modeled digitally and then constructed physically using a single reusable inflatable mold. The resultant surfaces, each unique in geometry, are alternately thin and dense or thick and porous, allowing light to filter through the structure. The exterior is flat and angular, reflecting conventional architectural production, while the interior is undulating, suggesting possibilities for further customization and the creation of integrated, sculpted furniture. In a nod to traditional American framing, the panels are faced in pine needles and rest on a base of dimensional lumber.
Funded by the University of Tennessee College of Architecture and Design through the Tennessee Architecture Fellowship.
Artists:
Katie MacDonald and Kyle Schumann are artists and designers whose work critiques conventional building practices, which face new lifecycle questions and overextended supply chains amid the current environmental crisis. Such work explores how digital tools can help reconcile the intentions of the designer with the irregularity of natural materials and processes to reframe authorship. MacDonald and Schumann are Assistant Professors of Architecture at the University of Virginia and Cofounders of After Architecture, a practice named to convey the built environment's impact on cultures and ecologies. Recent projects include an installation at the Oslo Architecture Triennale 2019 and a memorial in Washington D.C. Their installation at the Knoxville Museum of Art, Homegrown, is the culmination of the Tennessee Architecture Fellowship at the University of Tennessee Knoxville's College of Architecture + Design, which they jointly held from 2019-2020.
Exhibition will be in the KMA South Garden.
More information about After Architecture here
https://after-architecture.com/