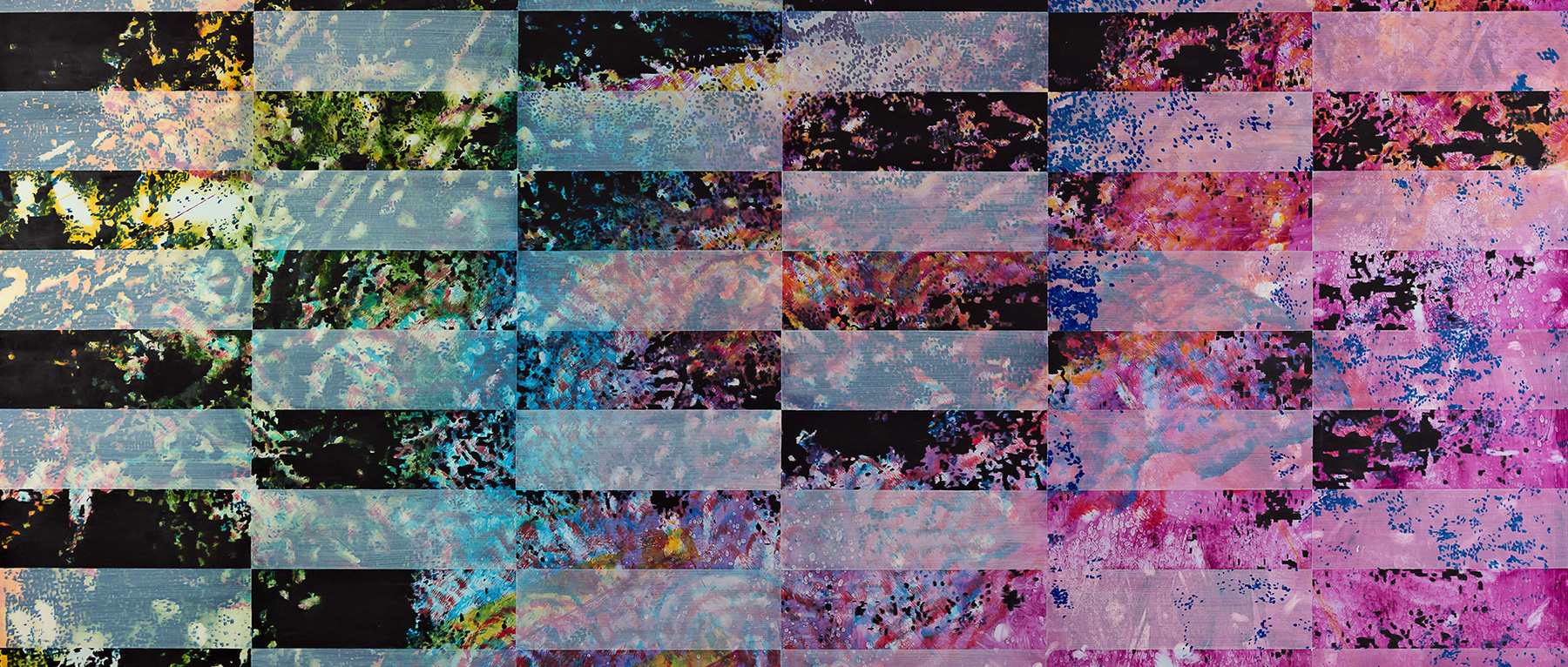 Jered Sprecher: Outside In
Knoxville-based artist Jered Sprecher (born Lincoln, Nebraska 1976) is among a generation of contemporary painters exploring anew the creative territory between figuration and abstraction. He describes himself as a "hunter and gatherer" who draws inspiration from an eclectic array of image sources including graffiti, architecture, cut gemstones, family photographs, and ancient frescoes. From these sources, the artist generates a broad spectrum of creative ideas and compositional possibilities that fuel his studio practice.
Sprecher constructs each painting by integrating Digital Age tools and virtuoso brushwork. Computers, copiers, and printers enable him to acquire and prepare selected images beforehand, in some cases adjusting and filtering them to the point at which they become ghostly remnants of the original. Intermingled with a broad range of abstract passages, this imagery is transferred onto canvas by hand through a meticulous, intuitive, and labor-intensive process. Inch by inch and layer by layer, he applies pigment in translucent veils, stenciled grids, feathered stripes, irregular dabs, and serpentine drips. The resulting compositions possess a transitional character—at close range, rich surface details are optically dominant while from a distance opalescent hues command greater attention, conveying a degree of luminosity reminiscent of digital monitors.
Outside In, Sprecher's first solo museum exhibition, reflects the dynamic range of the artist's recent work in terms of format, scale, imagery, and process. His design for the exhibition layout is inspired by the centuries-old practice of adorning living spaces with motifs derived from the natural world. Here, muted images of birds and flowers appear sporadically, often embedded between layered abstract passages. Sprecher also uses unorthodox object placement and format to infuse the gallery setting with subtle domestic references. One work appears in the form of a 30-foot long span of custom wallpaper based on digital scans of a loosely painted surface. Several related canvases are suspended from the ceiling in a way that enables them to serve a dual role as vibrant contemporary paintings and as partitions dividing the gallery space into separate compartments. Sprecher's resulting installation scheme enables viewers to experience his recent work as a single intimate environment, and as individual statements representing his ongoing treasure hunt through the debris of visual culture.
Jered Sprecher is a professor in the School of Art, University of Tennessee, Knoxville, and is represented by Jeff Bailey Gallery, New York; Gallery 16, San Francisco; and Steven Zevitas Gallery, Boston.
Jered Sprecher: Outside In is organized by the Knoxville Museum of Art and is supported in part by an award from the National Endowment for the Arts and Emerson Process Management.
Additional exhibition support is provided by Jeff Bailey Gallery, New York; Gallery 16, San Francisco; Steven Zevitas Gallery, Boston; and the University of Tennessee's School of Art, College of Arts & Sciences, and Office of Research & Engagement.
Additional Resources: