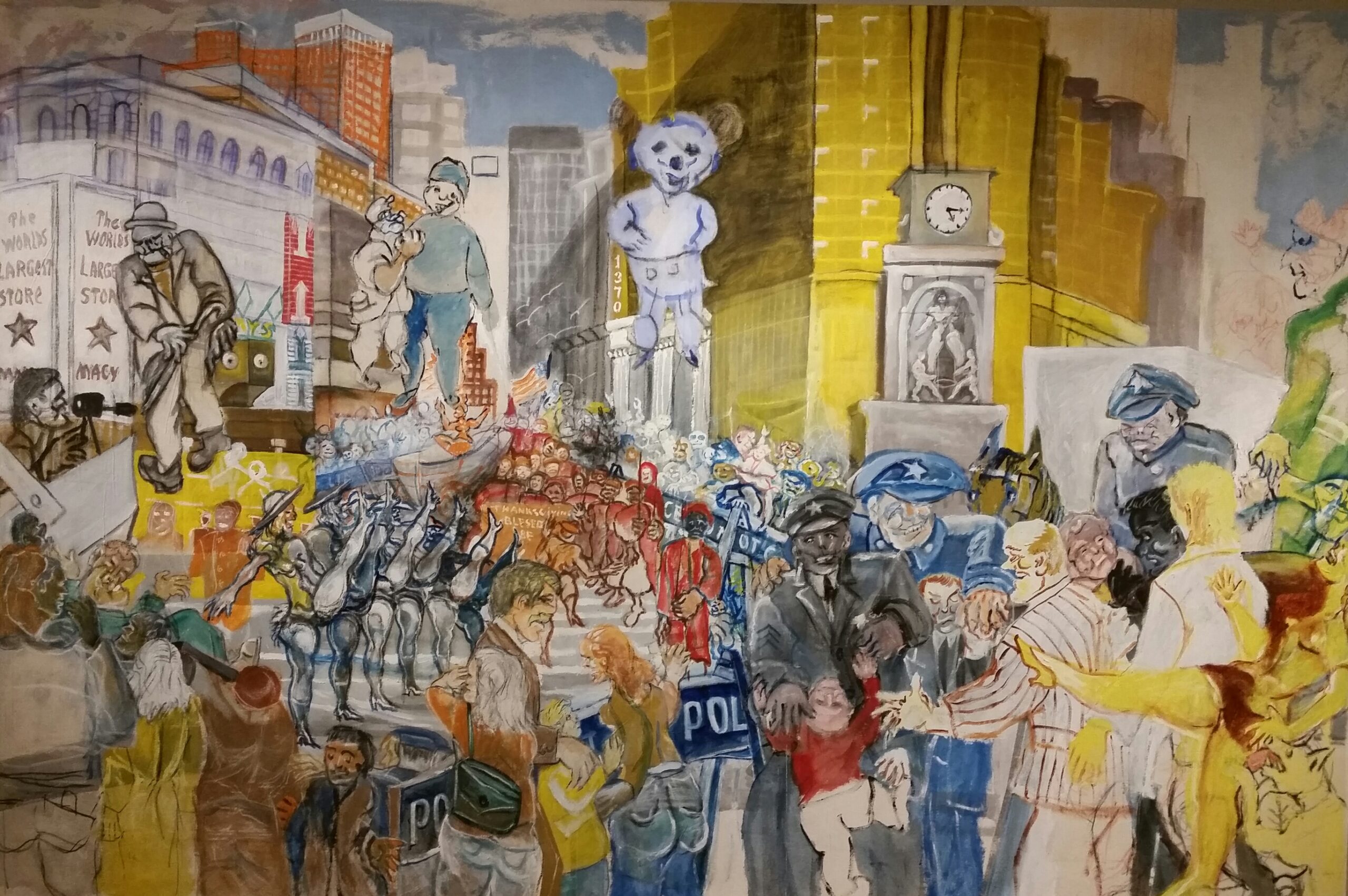 Joseph Delaney: On The Move
Born in Knoxville to a minister-father, Joseph Delaney (1904-1991) and his brother Beauford (1901-1979) learned to draw on Sunday school cards at church and took art lessons with distinguished local artist Lloyd Branson. Both brothers set out on their own in the 1920s, with Joseph settling in New York by 1930. There he studied with regionalist painter Thomas Hart Benton at New York's Art Students League with a group of classmates that included Jackson Pollock. Delaney spent the next 56 years painting portraits, figure studies, and lively scenes of urban life in lower Manhattan. On the Move will include key works from major segments of Delaney's career designed to represent the winding path of his artistic journey. A small selection of the artist's drawings, letters, and poetry will also be included to shed light on aspects of his inner life and creativity. Organized by the KMA.
Joseph Delaney: On the Move
"I think my brother Beauford and oldest sister Ogust loved all the moving and taking off as I did. I had the galloping spirit of my daddy."
Joseph Delaney, in his 1952 essay John Samuel Delaney
Knoxville-born Joseph Delaney (1904-1991) rose from humble beginnings to establish himself as a tireless and prolific painter of Manhattan's urban scene. Over the span of his 60-year career, Delaney displayed a remarkable ability to express the city's vitality using the loose brushwork of gestural abstraction, which at the time represented the cutting edge of studio practice, without sacrificing the narrative content many of his contemporaries had abandoned. The works featured in On the Move represent the variety of ways in which he used this hybrid method to infuse his painted scenes with vibrant energy, and intricate patterns of movement. While capturing the ebb and flow of life on the boulevards and back alleys, Delaney's vigorous brushwork also reveals his restless spirit and insatiable creative drive.
The son of a circuit preacher, Joseph Delaney and his family were on the move across East Tennessee almost constantly during his early childhood. The family eventually settled in Knoxville near the intersection of Central and Vine, an ethnically diverse, densely packed and lively neighborhood of taverns and bordellos where races and classes in segregated Knoxville rubbed shoulders. (The Delaneys' former neighborhood, located approximately under the Interstate 40 viaduct in the Old City, was completely erased in the urban renewal and highway construction projects of the 1960s, and the city's historic African American business district and residential areas were disrupted and scattered.) Joseph and older brother Beauford (1901-1979) learned to draw on Sunday school cards at church and took art lessons with Knoxville's leading artist, Lloyd Branson. By the early 1920s, ambitious, restless, free-spirited Joseph, seeing few opportunities in the segregated South, jumped a north-bound rain with no set plan or destination. He worked odd jobs and slept on the train or in hobo camps in and around Cincinnati, Columbus, Detroit, Pittsburgh, and Chicago. By 1930, he had made his way to New York and pursued training with esteemed Regionalist painter Thomas Hart Benton at the Art Students League alongside a group of classmates that included Jackson Pollock. He began earning much-needed income and gaining exposure as a self-professed street "sketch artist," rendering his subjects in lively fashion using quick contours. He was a fixture in Washington Square's annual outdoor art exhibition, along with brother Beauford and other emerging artists. Gaining full-time employment in 1934 as an artist for the government sponsored Work Projects Administration, he assisted with major mural projects and produced a series of watercolors depicting daily life in Lower Manhattan. Even though Delaney's paid assignment soon ended, his passion for chronicling the city's ever-changing character fueled his studio practice for decades, even after he returned to Knoxville in 1986 as artist-in-residence at the University of Tennessee.
While Delaney remained somewhat leery of what he viewed as imported art fads, his paintings reveal an adventurous blend of expressive contours, simplified forms, pronounced surface textures, and areas of unblended color far removed from the slick finishes of his teacher Benton. He often juxtaposed carefully described passages with looser areas in which he left inner workings and underlying contours exposed. Delaney infused even his monumental canvases with a sketch-like immediacy, suggesting fleeting glimpses of life captured quickly on location. By balancing the descriptive realism of Benton with elements of gestural abstraction, Delaney effectively conveys a vibrant modern world in transition while representing an unvarnished record of his energetic painterly process.
The works in On the Move reflect the many ways in Joseph Delaney's returned again and again to the concept of motion. A series of early biographical watercolors reconstructs memorable episodes in the Delaney family's sojourn through East Tennessee during the artist's childhood. In countless female nude ink studies, the artist uses masterfully economical contours of varying width and speed to strike a balance between anatomical accuracy and evocative distortion. In portraits, he seeks poses and expressions that convey fleeting, intimate encounters captured mid-gesture. In depicting Manhattan's urban scenes, the artist trains his ever-shifting vantage point on gleaming plazas and gritty nightspots with equal intensity and familiarity. In some compositions, near-panoramic views emphasize the pulse of crowds within vast architectural arenas. In others, the artist focuses on specific urban structures—subway cars, bridges, and roadways—that make movement possible.
Combining elements of narrative description and expressive abstraction, Joseph Delaney produced a consistent, substantial, and ambitious body of work that honors his strong academic foundation while incorporating innovative modernist approaches responsible for reshaping the artistic landscape of his day. The artist's inventive compositions vividly capture New York City's turbulent character in a manner that also conveys in bold terms his passion for the physical act of painting. On the Move has been organized in the hope of generating newfound appreciation and scholarly attention for an artist who captured his time and place with uncommon energy and a fiercely independent spirit.
Joseph Delaney 1904-1991