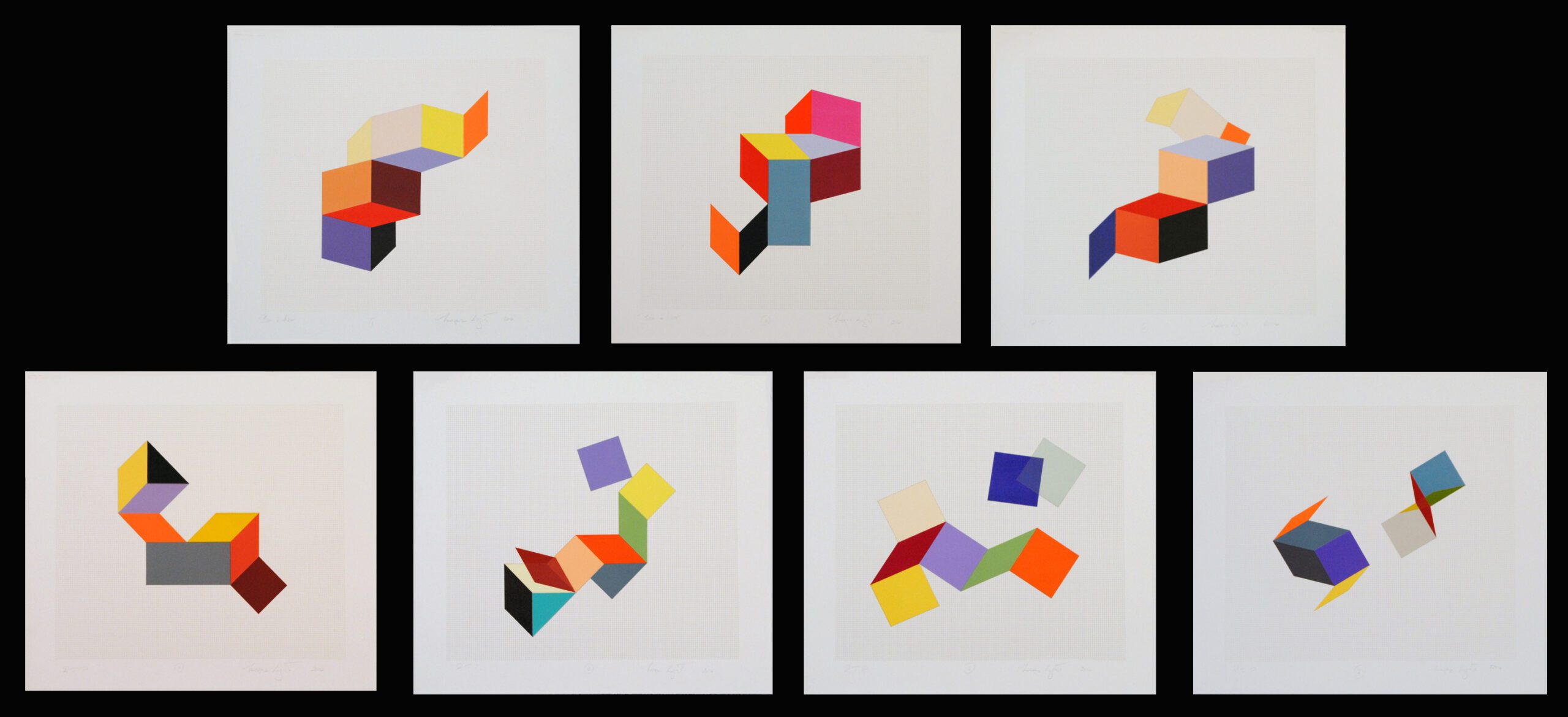 Landfall Press: Five Decades of Printmaking
This exhibition celebrates the history of Landfall Press, one of America's leading printmaking workshops. Landfall operated out of Chicago for thirty-five years and, in 2004, relocated to Santa Fe, New Mexico, where it continues to serve new generations. The featured selection of approximately 40 prints represents the broad spectrum of distinguished artists who have collaborated with Landfall, and the dynamic range of innovative printmaking approaches for which the legendary workshop is known.
Landfall Press: Five Decades of Printmaking celebrates the fiftieth anniversary of one of the country's most renowned printers-publishers. Landfall Press's history is marked by groundbreaking collaboration with a host of distinguished international artists. Some of the featured artists are leading printmakers while others work primarily in other media, but became interested in collaborating with master printers in order to realize their ideas in print-based works.As a result, participating artists discovered new creative avenues within the vast array of printmaking techniques offered by Landfall Press.The artists, in turn, contributed to the collaborative process new ideas and expressive possibilities from other media that have helped reshape and invigorate printmaking.
Culled from the holdings at Landfall Press, the featured selection of 50 prints represents the creative achievements of more than 40 distinguished international artists who have collaborated with Landfall since it opened in 1970, and emphasizes the dynamic range of innovative printmaking approaches for which the legendary workshop is known. Traditional notions of prints as small flat sheets are challenged by featured works taking the form of LP-format prints by Terry Allen, clustered intaglios by Pat Steir, and mixed media compositions by Christo that are enhanced by the addition of three-dimensional objects mimicking his monumental architectural wrappings. Other key artists represented in the exhibition include Judy Chicago, Sol Lewitt, Jiha Moon, Nicky Nodjoumi, Claes Oldenburg, Ed Paschke, Martin Puryear, Nusra Qureshi, Pat Steir, Kara Walker, and William T. Wiley.Together the selected works comprise an inspiring statement about the wealth of experimentation and range of innovation within the world of contemporary printmaking, and the central role of Landfall Press in its exciting evolution.
Many of the works featured in Five Decades of Printmaking are lithographs, created through a process based on the principle that oil and water repel each other. In the most traditional form of lithography, invented in 1796, the artist draws on a slab of limestone with a greasy crayon. During the printing process, the printer wets the stone and then applies oily ink. The non-image areas absorb the water while the image areas created with the greasy crayon attract the ink. A piece of paper is placed over the stone, and then run through a printing press under high pressure, creating an impression, or copy, of the image on the stone. This process is repeated to produce multiple prints. In color lithography, the printer uses a separate stone for each color, running the same piece of paper through the press several times to create the final, full-color image. Today, lithographers can print from zinc or aluminum plates rather than stones.Instead of working directly on the printing surface, artists can draw an image on a thin plastic sheet and transfer their image onto a sensitized plate through a photographic process.
The Knoxville Museum of Art is one of a handful of national museum venues selected to host this groundbreaking show on the strength of its extensive print holdings and its proximity to and partnership with the University of Tennessee School of Art's top-ranked printmaking program, and close ties to major print collectors and Landfall patrons Helen and Russell Novak, of Chicago, who gifted the KMA 38 contemporary prints that were featured in the KMA-organized 2018 exhibition Press Ahead: Contemporary Prints Gifted by Helen and Russell Novak.
---
ABOUT LANDFALL PRESS —
Founded in 1970 by Jack H. Lemon, Landfall Press played a key role in expanding the geography of the American postwar print renaissance. In the late 1950s and 1960s, new printmaking workshops, including Universal Limited Art Editions, Tamarind Lithography Workshop, and Gemini G.E.L., opened on the East and West Coasts. Jack Lemon helped bring this printmaking revival to the Midwest. He learned lithography at the Kansas City Art Institute, then later established and directed lithography workshops there in 1965 and at the Nova Scotia College of Art and Design in 1968. He opened Landfall Press in Chicago, effectively creating a new hub for printmaking that attracted artists from around the country.
Landfall Press is known for its commitment to innovation and exacting technical standards. It specializes in lithography but has also produced etchings, woodcuts, books, and multiples that have often redefined what a print can be. As a publisher, Lemon has collaborated with a diverse range of international artists, introducing many of them to the process of printmaking. Landfall operated out of Chicago for thirty-five years and, in 2004, relocated to Santa Fe, New Mexico, where it continues to serve new generations.
In recognition of Landfall Press's monumental contributions to international printmaking, the Milwaukee Art Museum in 1992 acquired the Landfall Press Archive, which consists of impressions of Landfall's publications and the objects and materials that went into making the completed prints. In 1996, the Museum organized a traveling exhibition and produced a catalogue in honor of Landfall's twenty-fifth anniversary. The Art Institute of Chicago presented its own celebration of the milestone in 1995, and, in 1997, the Museum of Modern Art in New York opened A Singular Vision: Prints from Landfall Press.
The works in the exhibition are on loan from Jack H. Lemon.
---
This project is supported, in whole or in part, by the federal award number SLFRP5534 awarded to the State of Tennessee by the U.S. Department of the Treasury.