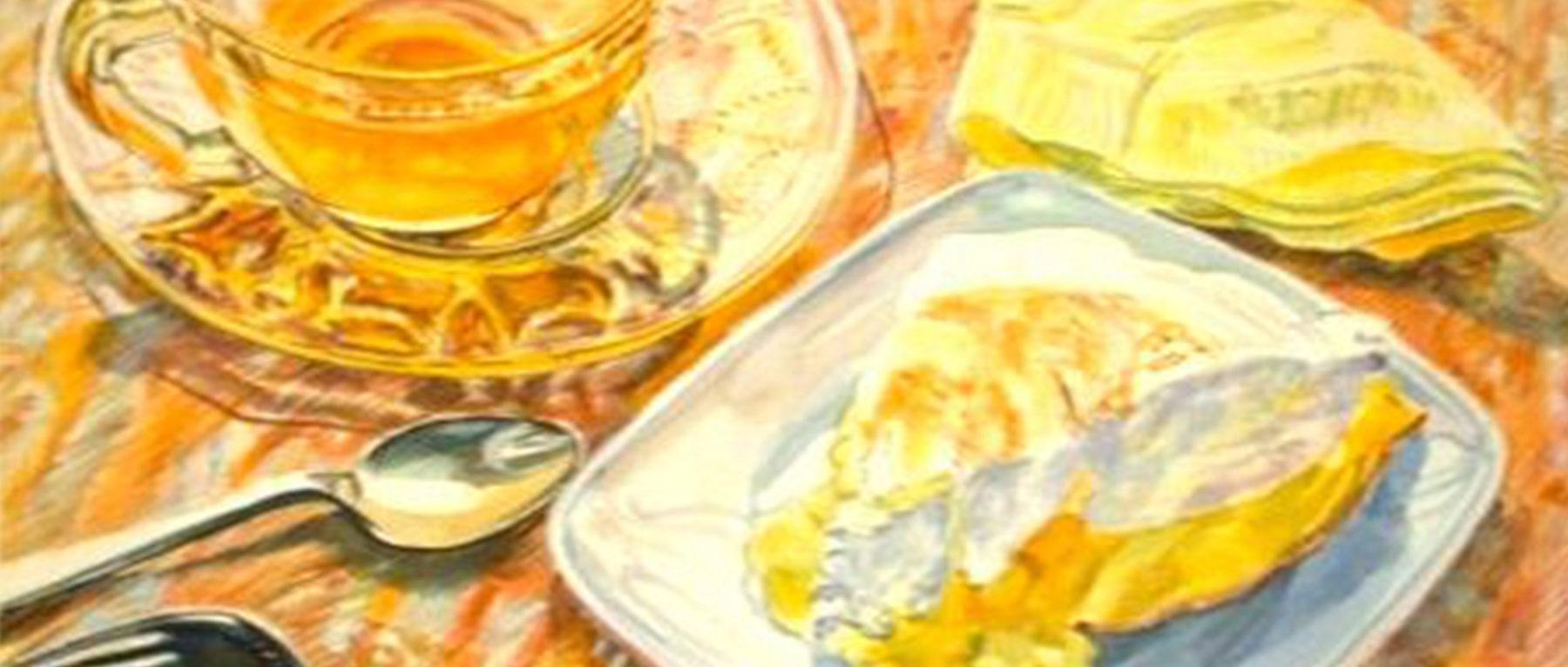 Liquid Light: Watercolors from the KMA Collection
This exhibition showcases recently acquired watercolors by East Tennessee artists Thomas Campbell, Charles Krutch, George Galloway, Walter Stevens, Carl Sublett, Richard Clarke, Whitney Leland, and Jered Sprecher, and presents them in the larger context of the museum's watercolor collection alongside works by Charles Burchfield, Janet Fish, and other internationally known artists. Organized by the KMA.
Artists in this Exhibition:
Thomas Campbell (1834-1914)
Painting was a second career for Thomas Campbell, who immigrated to the United States at age 19, and was ordained as a minister in 1866. He and his family moved to East Tennessee in hopes a climate change would improve the health of his wife, Susan, but she died in 1892. At that point, Campbell, retired from the ministry and turned art, which had been his hobby, into his job. He founded the art department at Maryville College in 1902 and headed it until his death. His paintings were exhibited regionally and won several prizes and medals. He was also active in the Nicholson Art League, and was a talented wood carver who produced picture frames and small pieces of furniture.
Charles Krutch (1849-1934)
Charles Christian Krutch is regarded as one of East Tennessee's first painters to specialize in scenes of the Smoky Mountains. He earned the nickname "Corot of the South" for his soft, atmospheric watercolor and oil landscape paintings of the mountain range. Totally untrained as an artist, he often applied thick layers of oil paint with brushes as well as his fingers. Krutch's goal was to capture the changing "moods" of the mountains and regarded his subjects as "just like people." He won a regional award for best watercolor at the 1913 National Conservation Exposition in Knoxville. However, it was not until 1933, a year before his death, that the 84 year-old artist received recognition outside Knoxville for his idyllic mountain landscape murals commissioned by the federal government as part of the Public Works Art Project.
George Galloway (unknown)
Unknown.
Walter Stevens (1927-1980)
Stevens used nature's forms as a point of entry into complex abstract compositions. He and fellow artist Carl Sublett often worked together in the summer along the Maine coastline. Along with Sublett and C. Kermit "Buck" Ewing, he was one of the first faculty members of the University of Tennessee's art department. He was also a core member of the Knoxville Seven, a group of forward-looking artists active between 1959 and 1965 who were among the first in East Tennessee to experiment with abstract expressionism. The KMA presented a large exhibition of his watercolors in 1992.
Carl Sublett (1919-2008)
Sublett was one of East Tennessee's most prolific and versatile artists. The Kentucky native came to Knoxville in 1954 and soon became an influential painting instructor at the University of Tennessee. He found endless inspiration in the Maine coastline, East Tennessee countryside and many other outdoor painting locations. Sublett shifted effortlessly from abstraction to precise realism throughout his long career and by the 1970s turned to watercolor as his primary medium.
Richard Clarke (1923-1997)
Clarke was one of the early members of the University of Tennessee's art faculty. He found inspiration for his watercolor abstractions in the natural world around him. Here, the artist applies drops of water onto his composition to enhance the depiction of a coastal storm.
Whitney Leland (1945- )
Leland has achieved a national reputation for his vibrant organic abstractions in oil and in watercolor. For more than four decades, he has explored the process of painting with great discipline by restricting his imagery to a limited set of variables— tangled, symmetrically arranged bands of color. Leland is recently retired from the University of Tennessee's painting faculty, and is one of the earliest graduates of the UT's art program.
Jared Sprecher (1979- )
Sprecher, who teaches painting at the University of Tennessee's School of Art, approaches his medium in ways that challenge traditional notions of the painting process and pictorial space. His inventive compositions present unlikely combinations of images borrowed from high and low sources, whether motifs from famous paintings, architectural blueprints, or graffiti scrawls on a wall near his studio. Their original meaning and associations are often subdued, altered or lost in favor of their new role as formal devices. Sprecher is also interested in the expressive possibilities inherent in certain types of papers, and in some cases elects to paint on found stationery or graph paper.
Alice Baber (1928-1982)
Baber is known for her vibrant abstract watercolors in which she creates pools of brilliant color and allows them to interact as they dry. Her works were inspired by Native American mythology, and the sun-drenched landscape surrounding her Florida home.
Lloyd Branson (1853-1925)
Enoch Lloyd Branson was one of the most talented and versatile East Tennessee artists of his era. He was the first artist from the region to receive art training in Paris. Upon the artist's return in 1878, he established a successful portrait business with photographer Frank McCrary at 130 Gay Street in downtown Knoxville. While portrait painting was his primary source of income, he produced many small oils and watercolors of the East Tennessee countryside. In addition to his studio work, Branson was active as an art teacher, training and inspiring a new generation of local talent including Catherine Wiley and brothers Joseph and Beauford Delaney.
Frederick Bronsen (1954- )
Brosen's precise watercolors describe in great detail historic architectural settings and panoramic vistas from around the world. Sketching on paper on-site, the artist paints small studies which he later uses to create larger watercolors in the studio.
Charles Ephraim Burchfield (1893-1967)
Burchfield is one of America's most important early 20th century painters. He possessed a keen interest in observing the natural world, and developed a unique style he used to convey the richness of the landscape around him, even its sounds. Notice how in this work he adds chalk onto the watercolor pigments to suggest snowfall, and attaches additional sections of watercolor paper to extend the original scene.
John W. Chumley (1929-1984)
Chumley, who grew up in Knoxville, specialized in rustic watercolor scenes of the Shenandoah Valley painted with great attention to surface detail. He received national recognition at his first New York exhibition in 1962, including notice from a Time Magazine art critic, who complemented Chumley for his "Lyric brush".
Adolf Arthur Dehn (1895-1968)
After focusing on experimental approaches to printmaking early in his career, Dehn discovered a passion for watercolor, and turned his attention to producing detailed scenes of everyday life. In the year this work was created he was spending time at the artist colony in Woodstock, New York, and also producing images for the U.S. Navy's war effort.
Thorton Dial (1928- )
Dial, of Bessemer, Alabama, is the most famous vernacular artist from the Southeast. His art is prized for its originality, emotional impact, and symbolic reflection on the African American experience in the South from the Jim Crow years through the civil-rights movement, and into the present. Although Dial is well known for his large found object sculptures, during the last two decades watercolor painting has become his primary artistic outlet. His distinctive method involves applying loose washes of watercolor pigment over symbolic human and animal figures outlined in pencil.
Charles Kermit Ewing (1910-1976)
"Buck" Ewing was a painter, teacher, printmaker, and leading figure in Knoxville's art scene from the late 1940s to the time of his death. In the center of this landscape scene the artist scratches into the paper surface to create highlights, and to allow the paint to accumulate in dark channels.
Janet Fish (1938- )
Fish is an internationally-recognized painter whose vibrant domestic scenes, still lifes, and landscapes examine the manner in which light plays off of surfaces and penetrates the interior structure of various everyday objects.
Dot Galloway (unknown)
Unknown.
Charles Rogers Grooms (1937- )
A Nashville native, Grooms is a multi-media artist known for his inventive, playful works on topics ranging from big-city life to art history. Hot Dog Vendor No. 3 represents one of the artist's many experiments with bringing sculptural effects to typically two- dimensional media such as painting and printmaking.
Ruthie Windsor (1948- )
Mann is a Knoxville native who specializes in watercolors of architectural subject.
Robert A. Nelson (1925- )
Nelson has enjoyed a national reputation for his eccentric, surreal figures drawn with great detail, vivid imagination, and dry wit. Here, he applies watercolor and gouache in small strokes to define anatomical details as if revealed from within.
Lallah Miles Perry (1926- )
Unknown.
Anne S. Powers (unknown)
Powers is an East Tennessee native and long-time member of the art faculty at Roane State Community College in Harriman. Although much of Powers' early career was devoted to watercolor, by the late 1970s she shifted her energies to computer graphics and design, and then to small-scale mixed media work
William Saroyan (1908-1981)
Saroyan specialized in abstract watercolor compositions that represent his emotional response to certain locations, in this case his hometown of Fresno, California. Applying watercolor in bold gestures resembling cryptic calligraphy, the artist often used his paintings to capture memories of earlier visits. Saroyan was better known as the Pulitzer- and Oscar-winning novelist and playwright for The Time of Your Life and Human Comedy.
Hubert Shuptrine (1936-2006)
Shuptrine, of Chattanooga, was well-known for his rustic subjects rendered in tiny, precise strokes in the tradition of Andrew Wyeth.
Lee Walton (1974- )
Walton is a California-born artist and former college baseball player whose mixed media drawings initially appear to be based on abstract compositional theories. However, they are actually coded translations of professional sporting events. Before each game, Walton creates a specific color-coded mark for every possible event or outcome. As action on the field unfolds, he makes marks on sections of paper in sequence so that the flow of the game dictates the final composition. These sections of paper are later arranged in rows to create a single drawing. In this way, Walton's approach represents an unexpected union of sports, chance, time, performance, and an artistic process free of conscious control.
Anton Weiss (1936- )
Weiss grew up in the former Yugoslavia and Austria and at an early age was inspired to become an artist after watching a documentary on Michelangelo. Much of his youth was spent fleeing the Nazis and struggling for survival in concentration camps before escaping to the United States in 1951. He and his family settled in Springfield, Tennessee. He studied with Hans Hofmann, a renowned abstract expressionist, and applied much of what he learned in developing his own approach to abstraction and color theory. Weiss is a founding member of the Tennessee Watercolor Society, and continues to paint at his home in Leiper's Creek, Tennessee.
Betsy Worden (1935-2006)
Worden was a prominent Knoxville artist, teacher, and patron of the arts who is perhaps best known for her achievements in watercolor and printmaking. This painting stems from her interest in Knoxville's early architecture—specifically her desire to preserve a visual record of historic homes in the Summit Hill area prior to their demolition to make way for Summit Hill Drive. As Worden explained, this work "provides a fleeting glance of an earlier time and a vision of things to come."
More Information: