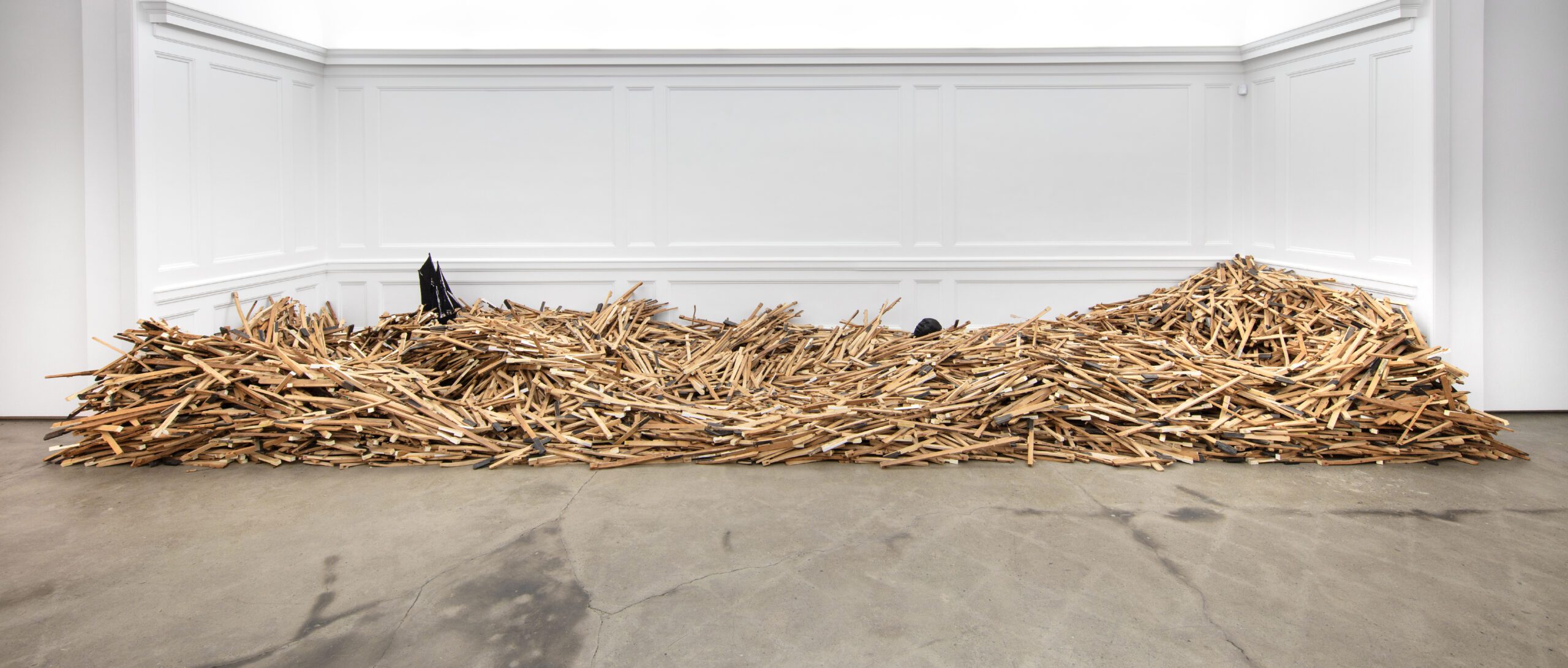 Radcliffe Bailey: Passages
Working primarily between the mediums of sculpture and painting, noted contemporary artist Radcliffe Bailey (born 1968) incorporates found objects and photographs into richly layered and textured compositions that address history, ancestry, migration, and collective memory.
"I've always felt like the only way I can heal myself is to go back through memory, learn from memory." -Radcliffe Bailey
Ancestral memory and cultural identity represent core themes fueling the artistic practice of Atlanta-based Radcliffe Bailey (born 1968). Bridging continents and cultural contexts, the artist's compelling narratives interweave individual experience and personal history within the collective trajectory of the African diaspora. Using an intuitive and labor-intensive approach, he combines found objects, painted motifs, and photographic imagery to create engaging compositions inspired by the Middle Passage, the Great Migration, and other key stages in the history of his ancestors. Featuring nearly 30 recent works, Radcliffe Bailey: Passages reflects the artist's ongoing artistic meditation on these difficult journeys, and their reverberations in present times.
Bailey's creative drive finds full expression in a variety of forms, including installations, sculptures, paintings, works on paper, and combinations thereof.  Many of his works represent a thoughtful conglomeration of new and salvaged materials and imagery made possible by the artist's command of various construction methods and studio techniques. Surface treatments range from distressed metal or wood to coatings of sparkling black sand, rust, and other substances applied to historically charged found objects. The artist typically develops multiple compositions at any given time, giving shape to larger interconnected narratives along the way. Each work gradually unfolds to reveal underlying elements, textural nuances, and thematic interconnections. References to travel, displacement, and crossing boundaries are especially prominent. Door of No Return (2019) presents a life-sized collaged photograph of the infamous threshold at Senegal's Gorée Island through which ancestral Africans stepped off home soil for the final time before boarding slave ships. This luminous doorway stands in stark contrast to its glittering black backdrop, which conjures visions of Caribbean black sand beaches and sea navigation by night. Windward Coast – West Coast Slave Trade (2009-2018) takes the form of roiling waves of piano keys out of which a glitter covered human head emerges. While alluding to traumatic passages by sea during which countless slaves perished, the installation's material components call attention to music as a limitless arena of innovation and accomplishment for descendants of survivors and as a vehicle through which their ancestors' voices persist. Comprised of a single oar within a tall bottle, the glass sculpture Stir (2016) is a poetic meditation on travel by water whose title signals broader concepts of inspiration and provocation. Palmyra, VA (2021) and Coles (2021) feature sections of miniature train track mounted to sculptural objects as a tribute to the Underground Railroad and to Bailey's train engineer father. The tracks' vertical orientation also suggests ladders promising access to new opportunities, higher ground, and spiritual deliverance. In recent mixed media paintings Charleston (2021) and En Route (2021), Bailey pairs shipping tarpaulins with blocks of tabby concrete, an early building material used in the coastal South produced largely by slave laborers. Hard-edged and puddled color shapes are intermingled with text and imagery pulled from antique maps, family trees, travel logs, and Haitian vévé spiritual diagrams used to navigate journeys both physical and spiritual. Reminiscent of quilts, the patchwork structure of paint and collage serves to reinforce prevailing themes of geographical displacement, lost lineages, and shattered histories.
The selection featured in Passages reflects the broad scope of Radcliffe Bailey's studio practice, and the multiple levels on which the artist's works convey meaning. His hybrid creations offer diverse points of entry into compelling narratives that are personal yet far-reaching. Evocative and physically complex, they appear as if talismans, shrines, reliquaries, guideposts, and portals offering direction and prompting reflection. Open-ended and wide-ranging, they remain enigmatic despite the presence of layered imagery implying a variety of possible interpretations. Each stands as a testament to the persistence of identity and memory, and as an enduring message whose affirmative spirit promises to transcend the painful legacy of cultural erasure.
ABOUT THE ARTIST

Born 1968 in Bridgeton, New Jersey, Radcliffe Bailey was raised in Atlanta, where he lives and works today. Forthcoming public art installations include work commissioned by the City of Atlanta, as part of the Renew Atlanta Public Art Program; the Freedom Cornerstone, commissioned by the City of Greensboro, North Carolina; and a commission by Philadelphia Contemporary. Recent solo exhibitions include Ascents and Echoes and Travelogue at Jack Shainman Gallery, New York; Pensive, SCAD Museum of Art, Savannah, which travelled to the Gibbes Museum of Art, Charleston; Radcliffe Bailey: Recent Works, Contemporary Arts Center, New Orleans; and Memory as Medicine at the High Museum of Art, Atlanta. Bailey's work is included in the collections of the Metropolitan Museum of Art, New York; the Smithsonian Institution, Washington, D.C.; the Art Institute of Chicago; the Museum of Fine Arts, Houston; the Nelson-Atkins Museum of Art, Kansas City, Missouri; the Denver Art Museum; and the High Museum of Art, among many others.
Radcliffe Bailey: Passages is organized by the Knoxville Museum of Art in conjunction with Jack Shainman Gallery, New York.

Thank you to our sponsors!
Arts & Culture Alliance
National Endowment for the Arts
Tennessee Arts Commission
City of Knoxville
Knox County
This project is supported, in whole or in part, by the federal award number SLFRP5534 awarded to the State of Tennessee by the U.S. Department of the Treasury.