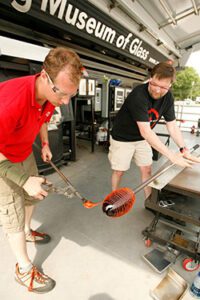 April 1, 2014 (Knoxville, TN) — – The Knoxville Museum of Art invites the public to attend GLASSFEST14 at the Knoxville Museum of Art April 30-May 4, 2014.
Festivities for GLASSFEST14 include the Corning Museum of Glass Hot Glass Roadshow, a GLASSBLAST Street Party, and a GLASSFEST Family Fun Day.
The Hot Glass Roadshow, presented by the Corning Museum of Glass in Corning, NY, will present live, hot glassblowing demonstrations for the public beginning Wednesday, April 30 through Sunday, May 4. The Roadshow uses unique glassmaking equipment to recreate a state-of-the-art studio environment. At venues around the world, the Corning Museum's gaffers demonstrate complex hot glassmaking techniques in front of live audiences.
Live glassmaking demos will be offered from 10am to 12noon and then again from 1pm to 4:45pm Wednesday through Sunday. All glassmaking performances are free for the public and all ages are welcome.
The GLASSBLAST Street Party will take place Friday, May 2 from 5 to 9pm outside the KMA on World's Fair Park Drive. Cost is $20 per person and includes live music by the Vibraslaps. The Corning Museum Hot Glass Roadshow will also be demonstrating during the Street Party. Food and beverages will be available for purchase from a variety of food and beverage trucks. Tickets may be purchased online at www.knoxart.org or at the gate.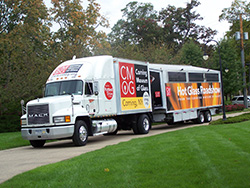 GLASSFEST Family Fun Day is FREE and will cap off the weekend's festivities Sunday, May 4 from 2 to 5pm. A KMA members-only brunch will be held from 12pm to 2pm, prior to opening to the public. This Family Fun Day will be filled with activities for children of all ages with a juggling, fire eating show by performer Mark Lippard, the musical sounds of the Northshore Band, dance performances by Ballet Gloria, face painting, balloon twisting, and caricature drawings. Door prizes will be given throughout the day and food and drinks will be for sale by various food trucks. Family Fun Day is free due to the generous sponsorship of Amica Insurance and First Tennessee Foundation.
The Knoxville Museum of Art celebrates the art and artists of East Tennessee, presents new art and new ideas, serves and educates diverse audiences, and enhances Knoxville's quality of life. The museum is located in downtown Knoxville at 1050 World's Fair Park and is open to the public Tuesday through Saturday 10 am–5 pm, and Sunday 1 pm-5 pm. Admission and parking are free. For more information, contact Angela Thomas at 865.934.2034 or visit www.knoxart.org.