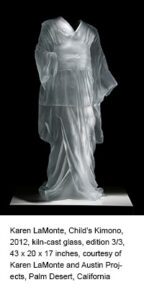 April 1, 2014 (Knoxville, TN) — Presented in conjunction with Richard Jolley's permanent glass installation Cycle of Life, this exhibition surveys the work of modern and contemporary artists who approach glass using innovative methods and techniques. Among the featured artists are Oben Abright, Graham Caldwell, Daniel Clayman, Andrew Erdos, Luke Jerram, Rashid Johnson, Dominick Labino, Karen LaMonte, Libensky & Brychtova, Beth Lipman, Harvey Littleton, Ivan Navarro, Mark Peiser, Lino Tagliapietra, Bertil Vallien, Christopher Wilmarth, and Fred Wilson.
There will be a public closing party Thursday, July 17 at the KMA, from 5:30 to 7:30pm. The presenting sponsor for this exhibition is The Frank and Virginia Rogers Foundation with additional sponsorship from The Art Alliance for Contemporary Glass. KMA media sponsors include Digital Media Graphix, Kurt Zinser Design, and WBIR. The exhibition is organized by the KMA.
The Knoxville Museum of Art celebrates the art and artists of East Tennessee, presents new art and new ideas, serves and educates diverse audiences, and enhances Knoxville's quality of life. The museum is located in downtown Knoxville at 1050 World's Fair Park and is open to the public Tuesday through Saturday 10 am–5 pm, and Sunday 1 pm-5 pm. Admission and parking are free. For more information, contact Angela Thomas at 865.934.2034 or visit www.knoxart.org.