Awarded Re-Accreditation from the American Alliance of Museums
The Knoxville Museum of Art (KMA) has again achieved accreditation by the American Alliance of Museums (AAM), the highest national recognition for a museum. This is the KMA's third accreditation, a status it first attained in 1995. Museums must undergo a reaccreditation review every 10 years to maintain accredited status.
In its notification letter, the AAM Accreditation Commission noted that "The Knoxville Museum of Art demonstrates best, and often exemplary, museum practices in many areas . . . We commend the museum for taking a risk and employing a smart strategy to focus its exhibitions and collections on the art and artists of East Tennessee as a way to strengthen community participation and support. Likewise, new educational programs and free admission show the institution's commitment to better connect with the regional community."
According to KMA Executive Director David Butler, "AAM reaccreditation is a resounding affirmation of the KMA's strategic direction and in the community's capacity and will to support a first-rate cultural organization. This honor reflects years of hard work and dedication by paid and volunteer staff and extraordinary and sustained commitment by the museum's stakeholders and its board leadership over the past decade. This is a fitting way to cap off a remarkable run of attainments for the KMA: the completion of a successful capital campaign; the unveiling of Richard Jolley's Cycle of Life, the world's largest figural glass installation; the completion of comprehensive building renovations; and the celebration of the twenty-fifth anniversary of the museum's 1990 opening in the landmark Clayton Building."
AAM accreditation brings national recognition to a museum for its commitment to excellence, accountability, high professional standards, and continued institutional improvement. Developed and sustained by museum professionals for nearly 45 years, AAM's museum accreditation program is the field's primary vehicle for quality assurance, self-regulation, and public accountability. It strengthens the museum profession by promoting practices that enable leaders to make informed decisions, allocate resources wisely, and remain financially and ethically accountable in order to provide the best possible service to the public.
Of the nation's nearly 17,500 museums, only about 1,000 are currently accredited. Locally, the only other AAM-accredited museum is the McClung Museum of Natural History and Culture at the University of Tennessee-Knoxville.
Accreditation is a very rigorous but highly rewarding process that examines all aspects of a museum's operations. To earn accreditation a museum first must conduct a year of intensive self-study, then undergo a site visit by a team of peer reviewers. AAM's Accreditation Commission, a panel of seven museum professionals, consider the self-study and visiting committee report to determine whether a museum should receive accreditation. Accreditation is one of the most important functions of AAM, headquartered in Washington, D.C. and dedicated to ensuring that museums remain a vital part of the American landscape. For more information, visit www.aam-us.org.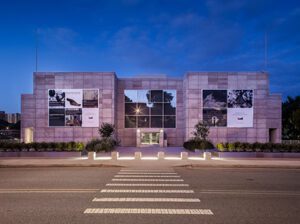 The Knoxville Museum of Art
The Knoxville Museum of Art celebrates the art and artists of East Tennessee, presents new art and new ideas, serves and educates diverse audiences, and enhances Knoxville's quality of life. The museum is located in downtown Knoxville at 1050 World's Fair Park and is open to the public Tuesday through Saturday 10am–5pm, and Sunday 1pm-5pm. Admission and parking are free. For more information, contact Angela Thomas at 865.934.2034 or visit www.knoxart.org.