The Knoxville Museum of Art Gift Shop hosts a Murano Glass Jewelry Trunk Show Wednesday, June 24, 10am-1pm and 3-5pm, with a reception from 5 to 7pm. Designer Leslie Ann Genninger will be here from Venice to showcase her jewelry. All proceeds benefit the Knoxville Museum of Art.
Located in the heart of Venice, the Genniger Studio reflects more than two decades of design by Leslie Ann Genninger, an "adopted" Venetian whose creations in Murano glass delight her patrons around the world. Genninger works alongside some of the most highly skilled glass masters in the world. She incorporates into her design some of the most difficult Murano glass blowing techniques, along with color secrets that date back over 1000 years.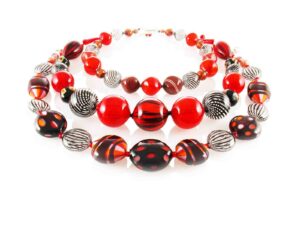 To reserve a place at the Knoxville Museum of Art trunk show, please contact Denise DuBose at ddubose@knoxart.org or 865.934.2036. Event is free and open to the public.
The Knoxville Museum of Art
The Knoxville Museum of Art celebrates the art and artists of East Tennessee, presents new art and new ideas, serves and educates diverse audiences, and enhances Knoxville's quality of life. The museum is located in downtown Knoxville at 1050 World's Fair Park and is open to the public Tuesday through Saturday 10am–5pm, and Sunday 1pm-5pm. Admission and parking are free. For more information, contact Angela Thomas at 865.934.2034 or visit www.knoxart.org.