January 30, 2012 (Knoxville, TN) – Thanks to an outpouring of generosity from the community, the Knoxville Museum of Art has acquired a landmark 1913 Impressionist painting by East Tennessee native Anna Catherine Wiley (1879-1958). The colorful scene of a woman and child in a sun-dappled meadow was purchased at auction at Case Antiques in Knoxville on January 28, 2012.
"Catherine Wiley was not prolific, and her paintings rarely come on the market," says KMA Curator Stephen Wicks. "This is one of her greatest works, from her best period, and shows why she is ranked among America's premier Impressionists. We are pleased and grateful that this masterpiece will stay here." Wicks added that he expects the painting to become a signature image for the KMA. "This acquisition supports in a very visible way the museum's important strategic goal of celebrating the art and artists of East Tennessee." The museum already owns two other works by Wiley, representing other aspects of her career.
"The KMA has no designated funding source to acquire works of art," noted Executive Director David Butler. "We were able to take advantage of this once-in-a-lifetime opportunity ­only because friends of the museum generously committed themselves to an additional gift above and beyond their annual operating contributions." Two dozen donors pledged a total of approximately $120,000 to purchase the Catherine Wiley painting. This amount will cover the hammer price, buyer's premium, cleaning, and conservation. A list of those who contributed to the purchase will be made available once all pledges have been received.
After the painting has been professionally cleaned, it will take place in Higher Ground: A Century of the Visual Arts in East Tennessee, the museum's ongoing installation dedicated to the art of our region.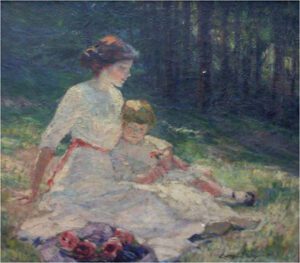 Catherine Wiley (1879-1958), Untitled, 1913, oil on canvas, 28 1/2 x 32 3/4 inches
The Knoxville Museum of Art The Knoxville Museum of Art celebrates the art and artists of East Tennessee, presents new art and new ideas, serves and educates diverse audiences, and enhances Knoxville's quality of life. The museum is located in downtown Knoxville at 1050 World's Fair Park and is open to the public Tuesday, Wednesday, Thursday, Friday, and Saturday 10am–5pm, Friday 10am–8pm, and Sunday 1pm-5pm. Admission and parking are free. For more information, contact Angela Thomas at 865.934.2034 or visit www.knoxart.org.