February 16, 2012 (Knoxville, TN) – The Knoxville Museum of Art presents Horizons: Steinunn Thórarinsdóttir through February 2013.
Horizons is an installation by noted Icelandic artist Steinunn Thórarinsdóttir (pronounced Stay-nun Thorens-daughter). The exhibition includes 12 androgynous, life-sized iron figures in the KMA's South Garden. Each is unique in pose and expression, and has a polished glass band inserted in its torso. The artist explains this juxtaposition of glass and iron, "The color of the iron signifies their primal quality—as if they are emerging from the earth" while "Glass as a material has a lot of different connotations. It can be fragile, yet dangerous. It can be translucent, or solid . . . It's like water, but also like air."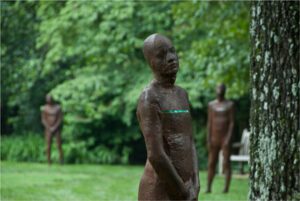 Thorarinsdottir has exhibited widely in Europe, Japan, and Australia over the last 30 years, as well as in the United States, where Horizons has been traveling for the past three years. The installation is featured in the documentary Horizons by independent filmmaker Frank Cantor, which won the CINE Special Jury Award in Washington as the best documentary of 2008. Thórarinsdóttir's work is held by collectors worldwide, and she has been commissioned by both the Icelandic and English governments for major sculptural installations. She has received numerous awards including the Order of the Falcon by the President of Iceland in 2009.
The Knoxville Museum of Art The Knoxville Museum of Art celebrates the art and artists of East Tennessee, presents new art and new ideas, serves and educates diverse audiences, and enhances Knoxville's quality of life. The museum is located in downtown Knoxville at 1050 World's Fair Park and is open to the public Tuesday, Wednesday, Thursday, Friday, and Saturday 10am–5pm, Friday 10am–8pm, and Sunday 1pm-5pm. Admission and parking are free. For more information, contact Angela Thomas at 865.934.2034 or visit www.knoxart.org.