Several Silences presents installations, videos, sculptures, and drawings by a diverse selection of contemporary artists from around the world who approach the theme of silence in distinctly individual ways. This group exhibition explores various kinds of silence—meditative, ambient, memorial, etc.—and calls attention to the rarity of the absence of sound in our growing "culture of distraction."
Harry Shearer's The Silent Echo Chamber is comprised of a cluster of televisions showing pirated video footage of numerous media personalities and politicians. The footage reveals each person's quirks and mannerisms captured unknowingly by the camera in the minutes before going on air. In Troy Brauntuch's untitled painting, stacks of folded men's dress shirts are barely discernable within murky, muted settings. As it turns out, the images are based on photographs of the interior of a Wall Street clothier taken by the artist in the days immediately after September 11, 2001. Ryan Gander's sprawling installation A sheet of paper on which I was about to draw, as it slipped from my table and fell to the floor consists of 100 glass spheres scattered throughout the gallery, each containing a laser-etched image of a blank sheet of paper.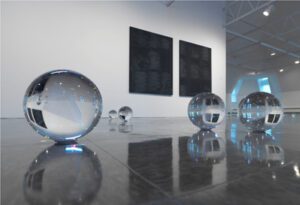 Installation shot, Ryan Gander (foreground), Troy Brauntuch (background)
There will be an opening reception Thursday, March 15 from 5:30-7:30pm at the KMA. Free and open to the public. Cash bar.
Several Silences is organized by The Renaissance Society, University of Chicago, which hosted the exhibition in 2009 and has assisted the KMA in reassembling it for this special presentation. KMA media sponsors include AT&T Real Yellow Pages, Digital Media Graphix, Kurt Zinser Design, and WBIR.
The Knoxville Museum of Art The Knoxville Museum of Art celebrates the art and artists of East Tennessee, presents new art and new ideas, serves and educates diverse audiences, and enhances Knoxville's quality of life. The museum is located in downtown Knoxville at 1050 World's Fair Park and is open to the public Tuesday, Wednesday, Thursday, Friday, and Saturday 10am–5pm, Friday 10am–8pm, and Sunday 1pm-5pm. Admission and parking are free. For more information, contact Angela Thomas at 865.934.2034 or visit www.knoxart.org.