January 9, 2012 (Knoxville, TN) – Liquid Light: Watercolors from the KMA Collection, January 27-April 15, 2012, celebrates the KMA's growing watercolor collection and presents an exciting range of approaches to the medium.
The selection of more than 50 works includes landscape images by watercolor masters from East Tennessee. Thomas Campbell, Charles Krutch, George Galloway, Betsy Worden, and Hubert Shuptrine describe specific locations in detail. Others, like Richard Clarke, and Walter Stevens, use landscape as a point of departure into abstraction. Alongside works by these local masters are those by internationally known artists Red Grooms, Thornton Dial Sr., and Charles Burchfield, each known for highly expressive scenes rendered in bold contours.
Liquid Light also represents a variety of technical approaches to watercolor. Janet Fish, Alice Baber, and Whitney Leland exploit the medium's inherent qualities in images made up of transparent pools of color. Jered Sprecher and Lee Walton build regimented compositions featuring hard-edged imagery and uniform color application. Red Grooms and Carl Sublett manipulate their paper support in order to introduce sculptural qualities to the painted surface.
Many of the works featured in Liquid Light were acquired recently through gift or purchase and have not been previously exhibited.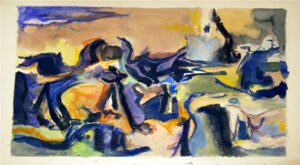 Walter Stevens (American, 1927-1980), Untitled, 1957, watercolor on paper, 20 7/8 x 29 1Ž4 inches, gift of the Carl Sublett family, 2010
The Knoxville Museum of Art The Knoxville Museum of Art celebrates the art and artists of East Tennessee, presents new art and new ideas, serves and educates diverse audiences, and enhances Knoxville's quality of life. The museum is located in downtown Knoxville at 1050 World's Fair Park and is open to the public Tuesday, Wednesday, Thursday, Friday, and Saturday 10am–5pm, Friday 10am–8pm, and Sunday 1pm-5pm. Admission and parking are free. For more information, contact Angela Thomas at 865.934.2034 or visit www.knoxart.org.