East Tennessee miniature artisans and Thorne Room experts Annelle Ferguson and Jolie Gaston designed a display which includes eight period vignettes representing the American home during the holidays. The vignettes contain a variety of 1/12 scale furnishings, many of which are adorned with miniature needlework in the form of quilts, samplers, rugs, tablecloths, and chair seats hand crafted by Ferguson. In addition, Ferguson and Gaston transformed one of the KMA's nine Thorne Miniature Rooms, the Victorian Parlor, by adorning it with a selection of miniature Christmas toys and a small decorated tree based on mid-19th century English designs.
Ferguson and Gaston hope to create additional designs for other rooms in the collection that can be used during future Thorne Room holiday displays at the museum.
The Knoxville Museum of Art's Thorne Rooms are among America's most well-known miniature diorama groups. They were developed in the 1930s and 40s by Mrs. James Ward Thorne of Chicago. In 1962 IBM, which had purchased 29 rooms, gave nine of the original Thorne Rooms to Knoxville's Dulin Gallery of Art, the KMA's predecessor. The Knoxville Museum of Art is one of five museums in the country to have a collection of Thorne Rooms.
A lifelong miniature enthusiast, Jolie Gaston received BA and JD degrees from the University of Tennessee and a BS from University of Nevada, Las Vegas. After teaching Hospitality Law at UNLV for 11 years, Gaston returned to her passion for miniatures and is an avid collector and maker of scale items. She is member of the National Association of Miniature Enthusiasts (NAME) and the International Guild of Miniature Artisans (IGMA). Additionally, Gaston has served on the board and is a past president of the International Guild of Miniature Artisans.
Annelle Ferguson is a fellow member and former president of IGMA and a member of NAME. She has been an occasional instructor at Guild School and Guild Study Programs where students learn basic needlepoint techniques and the process of creating and designing 1/12 scale needlework. Presently, Ferguson serves as US representative for the Miniature Needlework Society. The society was organized in England in 1997 to encourage all forms of miniature work with needle and thread.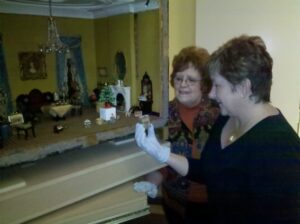 Jolie Gaston and Annelle Ferguson make adjustments in the Victorian Parlor, Thorne Rooms, Knoxville Museum of Art
The Knoxville Museum of Art The Knoxville Museum of Art celebrates the art and artists of East Tennessee, presents new art and new ideas, serves and educates diverse audiences, and enhances Knoxville's quality of life. The museum is located in downtown Knoxville at 1050 World's Fair Park and is open to the public Tuesday, Wednesday, Thursday, Friday, and Saturday 10am–5pm, Friday 10am–8pm, and Sunday 1pm-5pm. Admission and parking are free. For more information, contact Angela Thomas at 865.934.2034 or visit www.knoxart.org.