May 19, 2011 (Knoxville, TN) – The Knoxville Museum of Art presents Kwang-Young Chun: Aggregations, new work June 10-September 4, 2011.
Korean artist Kwang-Young Chun (b. 1944) began work on his series of Aggregations in the 1990s. Today, he is recognized internationally for these sculptural forms. The basis of his work is individual, triangular, Styrofoam shapes. Individually, these shapes are minuscule. Taken together, however, their visual impact is immense. This concept of the aggregate is what drives Chun's work.
The Styrofoam shapes are covered in Korean mulberry paper. In Korea, the paper is a mainstay and has many utilitarian uses from floor and window coverings to candy and medicinal wrappers. It also resonates with personal meaning for the artist, who recalls trips to an herbalist as a small child. Medicines wrapped in mulberry paper hung from the ceiling of the shop, the paper protecting the contents from dampness and insects.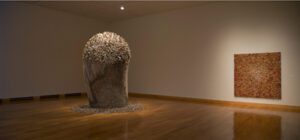 Chun uses pages recycled from old books to cover the geometric forms. These pages are covered in Korean and Chinese characters, adding another layer of cultural and personal meaning. He hand ties the paper over each shape, twisting pages into string to complete the wrapping. In this way Chun is able to integrate traditional materials into a contemporary context.
There will be an exhibition preview party Thursday, June 9, 2011 from 5:30-7:30pm.
Curated by Susan Moldenhauer. Funded in part by the National Advisory Board of the UW Art Museum and the Wyoming Arts Council through the National Endowment for the Arts and the Wyoming State Legislature.
The Knoxville Museum of Art The Knoxville Museum of Art celebrates the art and artists of East Tennessee, presents new art and new ideas, serves and educates diverse audiences, and enhances Knoxville's quality of life. The museum is located in downtown Knoxville at 1050 World's Fair Park and is open to the public Tuesday, Wednesday, Thursday, Friday, and Saturday 10am–5pm, Friday 10am–8pm, and Sunday 1pm-5pm. Admission and parking are free. For more information, contact Angela Thomas at 865.934.2034 or visit www.knoxart.org.